Monday marked the beginning of the 2017-18 season as practices kicked off at the high school.  Sparta will be looking to improve upon their second place finish in conference and prevent Holmen from making it three conference championships in a row.  Below, we will briefly look at each competition date on the calendar.  If you want to keep track of the schedule and how the Spartans are doing, keep visiting Spartanwrestling.com, but you can also bookmark the following page to see the schedule and follow the results…
Returning wrestlers with varsity experience include Blake Brooks, Vince Polhamus, Thomas Treu, Jon Bailey, Kyle Erickson, David Hayes, Brett Von Ruden, Mathias Krein, Hayden Krein, Cole Wisniewski, Garet Pfaff, Gabe Dearman and Noah Benish.
Vince Polhamus (106), Jon Bailey (126), Brett Von Ruden (152) and Hayden Krein (160) all earned first team MVC honors during the 2016-17 season.  Blake Brooks earned 2nd team honors last season while Kyle Erickson and David Hayes were honorable mention.
Onto the preview…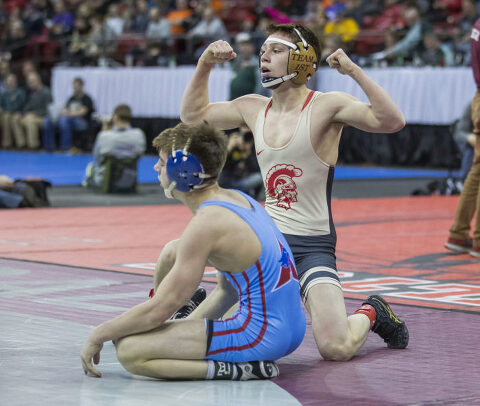 Thursday, November 30th at Fennimore
The Spartans were dominant last season defeating the defending division three state team champions 46-21 in Sparta.  This year they travel to Fennimore to host the 2016-17 state team runner-ups.  It will be a tough dual for the Spartans as Fennimore is a perennial power and will feature five returning state qualifiers including defending 126-pound D3 state champion Trevor Wanek.  The lower and middle weights in this dual will be critical.
Saturday, December 2nd at Ellsworth Invitational
Both the varsity and JV will travel to Ellsworth to kick off December wrestling.  Last year, the Spartans finished 2nd at Ellsworth with Jaden Winchel Sparta's lone champion.  Jon Bailey, Brett Von Ruden, Hayden Krein and Austin Zwiefel all placed second.  Ellsworth ran away with the tournament scoring 255.5 points to second-place Sparta's 182.5.
Ellsworth has been among the D2 titans for over a decade now and they will feature another stacked squad.  They edged Luxemburg-Casco 27-26 in the state team finals last season.  Between the Fennimore dual and the Ellsworth invitational, the Spartans will not wait long before running into some top-level competition.
Thursday, December 7 at Marshfield
This is a new dual for the Spartans and it will be against a tough Marshfield squad.  Marshfield started out the 2016-17 season unranked in division one, but rose to as high as 5th before falling to Hudson 36-33 at team sectionals.
Saturday, December 9th at Battle on the Bay
Sparta will head back to Bayport High School for the Battle on the Bay tournament.  Last year, the Spartans finished second to D2 state team runner-up Luxemburg-Casco in the 24-team tournament.  The Spartans will get right into it the first month of the season as this is another tough tournament.  Last year, Jaden Winchel and Hayden Krein emerged as Sparta's only champions.  Returning Spartans with experience at this tournament include Blake Brooks (4th at 106), Jon Bailey (2nd at 120), Thomas Treu (17th at 126), Kyle Erickson (10th at 132), David Hayes (8th at 138), Brett Von Ruden (5th at 152), James Gann (12th at 182) and Garet Pfaff (17th at 220).
Thursday, December 14th vs. La Crosse Aquinas
Sparta's home and conference opener will feature the 29th meeting of the Spartans and Blugolds.  It's been all Sparta in this history with the good guys owning a 24-4 all-time record against Aquinas.  This year, Sparta will look to make it 13 in a row after defeating the Blugolds 67-6 last season.
Saturday, December 16th at Willard Schmidt Scramble
Another new addition to the schedule, the Spartans will head all the way back to the east side of the state to Green Bay Preble High School to participate in the Willard Schmidt Scramble.  Last year's 14 teams included division one state team champion Kaukauna, division two state team runner-up Luxemburg-Casco and Lomira (finished as the 4th-ranked team in D2 in the final Wisconsin Wrestling Online rankings).
Thursday, December 21st vs. Onalaska
The Spartans will host the combined team of Onalaska and Onalaska Luther in their final dual of 2017.  Last year, the Spartans dominated Onalaska 62-15 to improve to 30-0 all-time against the Hilltoppers.
Friday, December 29th and Saturday, December 30th at the Bi-State Classic
The Spartans finished as the top team in division one and third overall at the 60-team tournament.  Jon Bailey captured his second Bi-State title in as many years to join Hayden Krein as Sparta's champions at this event.  Jaden Winchel was a finalist, but placed second.  Top teams at last year's tournament included overall champion Stratford, Ellsworth, Luxemburg-Casco, River Valley and Hudson.  Marshfield, who the Spartans will see three weeks before Bi-State, finished 8th overall and 4th in division one at last year's tournament.
Thursday, January 4th at Logan/Central
The combined wrestling programs of La Crosse Logan and La Crosse Central will host Sparta at Central High School to kick off wrestling action in 2017.  The Spartans hold a combined record of 47-16 against the programs of Logan and Central, which will now form one program after years of declining participation lead to many dual meets with multiple forfeits.  Last year, the Spartans defeated Logan 63-9 and Central 60-17.
The combined team will be without standouts Jaden Van Maanen and Connor Williams who were lost to graduation.  There were no ranked wrestlers from La Crosse Logan in the final Wisconsin Wrestling Online rankings of 2016-17.  Van Maanen and Williams were the top-ranked wrestlers in D1 at their respective weight classes before the state tournament with Van Maanen capturing a state title and Williams finishing third.
Saturday, January 6th at Lancaster Invitational
The varsity will head back to Lancaster for their first tournament action of 2018.  Last year, the Spartans won the tournament by 49.5 points over second place Iowa-Grant/Highland.  Jaden Winchel, Hayden Krein and Austin Zwiefel left as champions.  Teams at Lancaster last year included Iowa-Grant/Highland, Darlington, Cashton, Dubuque Wahlert, Brodhead and Lancaster, obviously.
Saturday, January 13th at Brookfield Scramble
The Spartans finished second to Oak Creek at the Brookfield Scramble last year with David Hayes, Jaden Winchel and Hayden Krein emerging as champions.  Blake Brooks finished second, Jon Bailey third, Kyle Erickson 6th, Brett Von Ruden 2nd and Noah Benish 7th place.  Top teams at this tournament last year included Oak Creek, Muskego, Fort Atkinson, Beaver Dam, Whitnall, Kenosha Tremper and Catholic Memorial.
Thursday, January 18th vs. Tomah
Sparta will host Tomah in the 63rd meeting between these rivals.  Tomah holds the all-time advantage with a 37-25 record over the Spartans, but the Timberwolves came up short last year losing at home 42-21.  Sparta won nine of 14 matches against a young Tomah squad that should be a tougher matchup for the Spartans this year.  Tomah returns junior Dawson Lambert (2nd place at sectionals, state qualifier at 106, 17-3 overall), junior Cody Zimmerman (19-5 overall at 113), sophomore Owen Walters (23-13 overall at 120), senior Bobby Bemis (17-8 overall at 132) and junior Angel Burkhalter (15-8 at 195).
Gone are Tommy Repka (36-8 at 126), Hunter Pierce (35-10 at 138), Casey Curran (30-11 at 152) and Justice Blackhawk (27-16 at 182).
Saturday, January 20th at Sparta Invitational
The Spartans will host the 45th Sparta Invitational Saturday, January 20th at Meadowview Middle School.  Last year, the Spartans edged out Marshfield for the team title winning by seven points.  The team title was in question until the final two matches of the day.  Jaden Winchel was Sparta's only individual champion last year.  Blake Brooks and Jon Bailey finished second while Kyle Erickson, Brett Von Ruden and Austin Zwiefel all finished third.  David Hayes was 5th while Mathias Krein finished in 6th place filling in for his injured brother Hayden.
Top teams at last year's tournament include the aforementioned Marshfield, Reedsburg, West Salem and Neillsville/Greenwood/Loyal.  Mason Phillips of Eau Claire North will be one of the top visiting wrestlers having three state tournament appearances on his resume and multiple podium finishes.  After going 15 years without a team title at their own invitational, the Spartans brought home the gold in 2012 and since then have won it four out of the past six years.
Thursday, February 1st at Holmen
The Spartans fell to Holmen 41-24 last year in a dual that determined who would win the MVC.  The Spartans were without Hayden Krein and lost two matches by less than three points.  It was the 12th time in the 27-year history of the MVC that Sparta and Holmen had occupied the top two spots.  We may be in for more of the same this year as Holmen brings back a solid squad that will be a challenge for the Spartans.
Returning for Holmen is sophomore Alex Pellowski (27-16 at 106), junior Rylee Rensberry (25-10 at 113, 3rd at sectionals), senior Trevor Plomedahl (20-10 at 120, 3rd at sectionals), senior Tanner Schultz (35-6, sectional champion and state qualifier at 132), senior Zach Gordon (14-6 at 145), senior Reed Williams (30-13 at 152), junior Kalyn Jahn (44-10 at 160, 5th at state), senior Isaac Lahr (31-9 at 170, state qualifier), senior Jack Westscott (39-12 at 195, state qualifier) and junior Jesse Fiers (19-9 at 285).
Gone for the Vikings are Noah Steinhoff (9-3 at 182, 3rd place at sectionals) and Brett Davis (29-9 at 220).
Get to Holmen early for this one as it will be a packed gym.
Saturday, February 10th at WIAA Regionals at Baraboo
Saturday, February 17th at WIAA Sectionals at Waunakee
Tournament season begins!  Last year, the Spartans were lucky with regional and sectional stops in Holmen and Tomah so travel was short.  This year, the Spartans will be putting on some miles with regionals at Baraboo and Sectionals at Waunakee.  Last season, the Spartans finished second to Holmen at regionals and saw eight wrestlers advance to sectionals.  Jon Bailey and Hayden Krein were Sparta's champions while David Hayes, Jaden Wichel and Brett Von Ruden all placed second.  Blake Brooks, Kyle Erickson and Matt Fahning finished third.
At sectionals, four Spartans advanced to the state tournament.  Making his second trip to state was sophomore Jon Bailey, juniors Brett Von Ruden and Hayden Krein each made their third trip to state while senior Jaden Winchel made his fourth.  Kyle Erickson finished third while Blake Brooks, David Hayes and Matt Fahning were one and done.
February 22-24, 2017 at WIAA State Individual Tournament
The last time the Spartans did not have a state tournament qualifier was 2001 and the Spartans have failed to send a wrestler to the state tournament only twice since 1985.  Seniors Brett Von Ruden and Hayden Krein have each qualified three times while junior Jon Bailey has qualified twice.  There has also been a Spartan on the podium every year since 2012.