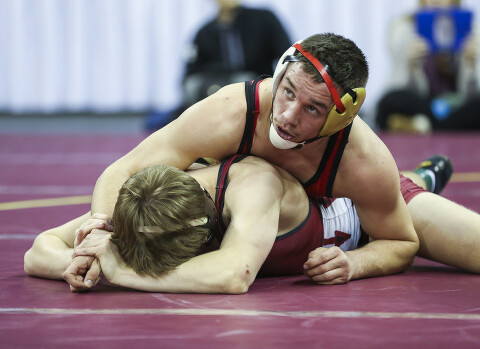 With champions Jaden Winchel and Hayden Krein leading the way, the Spartans finished 2nd Saturday at the 24-team Battle On The Bay tournament at Bay Port High School in Green Bay, Wisc.
"In a field full of tough competition, our boys wrestled a great tournament. A large focus for the season is to not overlook anyone, to take the season match by match. I believe this was shown Saturday. We had a couple champions, but we also had guys that bounced back after one or two losses to help contribute to our team score," Spartan head coach Jared Rickert said.  "As I say to the boys, this is now a past event, we will learn from our mistakes, but our focus is now on Aquinas."
Luxemburg-Casco won the team championship with 505.5 points.  Following Sparta in third place was division two third-ranked Oconto Falls with 388.5 points followed by division two fourth-ranked Freedom with 377.5 points.  In fifth place was division one sixth-ranked Pewaukee followed by division one honorable mention Mukwonago in 6th place.  Unranked Denmark came in 7th place followed by division one 11th-ranked Oak Creek.  In other words, the Spartans wrestled well enough to beat some great programs.
At 145 pounds, Jaden Winchel dominated his bracket from start to finish racking up five pins in five matches with no match reaching the third period.  His quickest pin came in 39 seconds while his longest pin was 3:25 in the finals over Brytton Goymerac of Appleton North.
Hayden Krein's path to a championship was a little tougher.  Krein's five matches featured a pin, technical fall, two major decisions and a close 4-3 victory in the semis.  The 160-pound bracket was loaded with multiple state champions and state placewinners, but it was the defending division one 152-pound state champion Hayden Krein that emerged as the champion.
The 160-pound semifinals featured Oconto Falls' Nate Trepanier who was the defending division two 145-pound state champion, last year's 4th place finisher at 152 pounds in division two in Southern Door's Michael Bertrand and last year's division two 145-pound state runner-up in Wrightstown's Ben Klister.  These three guys had a combined record of 127-16 last year, but it was Krein who would emerge champion with an 11-2 victory in the finals over Klister.
Other top finishers for the Spartans included Jon Bailey coming in second at 120, Blake Brooks coming in 4th at 106, Brett Von Ruden coming in 5th at 152, Jakob Larson 7th at 113, Austin Zweifel 7th at 185 and David Hayes 8th at 138.  Summarized results are below…
106  –  Blake Brooks, 4th Place, 3-2
113  –  Jakob Larson, 7th Place, 3-2 with two pins
120  –  Jon Bailey, 2nd Place, 4-2 with two pins and a major decision victory
126  –  Thomas Treu, 17th Place, 0-3
132  –  Kyle Erickson, 10th Place, 3-2 with three pins
138  –  David Hayes, 8th Place, 2-3
145  –  Jaden Winchel, 1st Place, 5-0 with five pins
152  –  Brett Von Ruden, 5th Place, 4-1 with three pins
160  –  Hayden Krein, 1st Place, 5-0 with a pin, technical fall and two major decision
170  –  Matt Fahning, 9th Place, 3-1 with two pins
182  –  James Gann, 12th Place, 1-3 with a pin
195  –  Austin Zweifel, 7th Place, 3-2
220  –  Garet Pfaff, 17th Place, 1-2 with a pin
At 106 pounds, Blake Brooks continued his impressive start to the season with a 4th place finish with close losses coming to 8th-ranked Tommy Larson of East Troy in the semifinals and 2nd-ranked Cody Minor of Ashwaubenon in the 3rd place match.  Brooks dropped a one-point decision to Larson and a two-point decision to minor.
At 120 pounds, Jon Bailey won in sudden victory overtime against the 10th-ranked wrestler at 120 pounds in division one in Oak Creek's Mitch Landgraf.  In the finals, he dropped a close 3-1 decision to the defending division two state champion Bryce Bosman of Luxemburg-Casco.
Brett Von Ruden's only loss on the day came to the sixth-ranked wrestler in division two at 152 pounds in Freedom's Evan Vosters.
Full match-by-match results are below…

106 – Blake Brooks (13-9) placed 4th and scored 38.00 team points.
Round 1 – Blake Brooks (Sparta) 13-9 received a bye () (Bye)
Round 3 – Blake Brooks (Sparta) 13-9 won by decision over Ethan Pogorzelski (Menomonee Falls) 3-2 (Dec 6-2)
Quarterfinal – Blake Brooks (Sparta) 13-9 won by decision over Justin Matheison (Escanaba) 2-3 (Dec 6-0)
Semifinal – Tommy Larson (East Troy) 4-1 won by decision over Blake Brooks (Sparta) 13-9 (Dec 6-5)
3rd Place Match – Cody Minor (Ashwaubenon) 4-1 won by decision over Blake Brooks (Sparta) 13-9 (Dec 4-2)
113 – Jakob Larson (5-6) placed 7th and scored 32.00 team points.
Round 2 – Jakob Larson (Sparta) 5-6 received a bye () (Bye)
Round 3 – Jakob Larson (Sparta) 5-6 won by fall over Simon Chouinard (Escanaba) 18-21 (Fall 1:22)
Quarterfinal – Noah Leisgang (Ashwaubenon) 3-2 won by decision over Jakob Larson (Sparta) 5-6 (Dec 10-3)
Cons. Round 2 – Cole Tenor (Denmark) 4-1 won by fall over Jakob Larson (Sparta) 5-6 (Fall 2:55)
7th Place Match – Jakob Larson (Sparta) 5-6 won by fall over Randall Hunt (Oak Creek) 2-3 (Fall 2:45)
120 – Jon Bailey (47-7) placed 2nd and scored 48.00 team points.
Round 1 – Jon Bailey (Sparta) 47-7 won by fall over Dale Kafura (Muskego) 2-3 (Fall 1:12)
Round 3 – Jon Bailey (Sparta) 47-7 won by fall over Garrett Oyster (West De Pere) 12-16 (Fall 3:50)
Quarterfinal – Jon Bailey (Sparta) 47-7 won by major decision over Tyler Gill (Menomonee Falls) 31-6 (MD 9-0)
Semifinal – Jon Bailey (Sparta) 47-7 won in sudden victory – 1 over Mitch Landgraf (Oak Creek) 50-6 (SV-1 3-1)
1st Place Match – Bryce Bosman (Luxemburg-Casco) 48-6 won by decision over Jon Bailey (Sparta) 47-7 (Dec 3-1)
126 – Thomas Treu (0-3) placed 18th and scored 2.00 team points.
Round 1 – Aaron Schulist (Mukwonago) 44-5 won by fall over Thomas Treu (Sparta) 0-3 (Fall 1:46)
Round 2 – Logan Grota (Oshkosh West) 2-3 won by fall over Thomas Treu (Sparta) 0-3 (Fall 0:50)
Cons. Round 1 – Thomas Treu (Sparta) 0-3 received a bye () (Bye)
Cons. Round 2 – Thomas Treu (Sparta) 0-3 received a bye () (Bye)
17th Place Match – Mikey Mejia (Appleton North) 3-2 won by fall over Thomas Treu (Sparta) 0-3 (Fall 1:23)
132 – Kyle Erickson (11-10) placed 10th and scored 24.00 team points.
Round 2 – Kyle Erickson (Sparta) 11-10 won by fall over Courage Krueger (Escanaba) 2-3 (Fall 1:57)
Round 3 – Nathan Ronsman (Luxemburg-Casco) 40-10 won by major decision over Kyle Erickson (Sparta) 11-10 (MD 11-1)
Cons. Round 1 – Kyle Erickson (Sparta) 11-10 won by fall over Kaiden Conrad (Ashwaubenon) 21-21 (Fall 4:38)
Cons. Round 2 – Kyle Erickson (Sparta) 11-10 won by fall over Wyatt Borkovec (Oconto Falls) 3-2 (Fall 1:25)
9th Place Match – Ben Durocher (Wrightstown) 4-1 won by major decision over Kyle Erickson (Sparta) 11-10 (MD 10-2)
138 – David Hayes (28-22) placed 8th and scored 25.00 team points.
Round 2 – David Hayes (Sparta) 28-22 received a bye () (Bye)
Round 3 – David Hayes (Sparta) 28-22 won by decision over Kenton Peterson (Oconto Falls) 29-18 (Dec 6-3)
Quarterfinal – Eric Wunsch (Menomonee Falls) 40-8 won by decision over David Hayes (Sparta) 28-22 (Dec 7-1)
Cons. Round 2 – Sam Peters (Freedom) 24-16 won by tech fall over David Hayes (Sparta) 28-22 (TF-1.5 5:33 (19-4))
7th Place Match – Joey Colla (Oak Creek) 28-13 won by major decision over David Hayes (Sparta) 28-22 (MD 9-1)
145 – Jaden Winchel (44-5) placed 1st and scored 57.00 team points.
Round 1 – Jaden Winchel (Sparta) 44-5 won by fall over Devan Alt (River Valley) 5-7 (Fall 2:14)
Round 3 – Jaden Winchel (Sparta) 44-5 won by fall over Max Hrubecky (Mishicot) 10-25 (Fall 0:39)
Quarterfinal – Jaden Winchel (Sparta) 44-5 won by fall over Kade Cummings (Green Bay Preble) 24-17 (Fall 2:37)
Semifinal – Jaden Winchel (Sparta) 44-5 won by fall over Garrett Jeanquart (Luxemburg-Casco) 21-5 (Fall 3:13)
1st Place Match – Jaden Winchel (Sparta) 44-5 won by fall over Brytton Goymerac (Appleton North) 29-19 (Fall 3:25)
152 – Brett Von Ruden (26-8) placed 5th and scored 41.00 team points.
Round 1 – Brett Von Ruden (Sparta) 26-8 won by fall over Brandon Wozny (Mukwonago) 2-3 (Fall 2:00)
Round 3 – Brett Von Ruden (Sparta) 26-8 won by medical forfeit over Brett Millan (Oak Creek) 0-4 (M. For.)
Quarterfinal – Evan Vosters (Freedom) 32-16 won by decision over Brett Von Ruden (Sparta) 26-8 (Dec 10-6)
Cons. Round 2 – Brett Von Ruden (Sparta) 26-8 won by fall over Ean Bevins (Escanaba) 31-15 (Fall 2:24)
5th Place Match – Brett Von Ruden (Sparta) 26-8 won by fall over Montana Richardson (Ashwaubenon) 27-10 (Fall 0:38)
160 – Hayden Krein (48-5) placed 1st and scored 52.50 team points.
Round 1 – Hayden Krein (Sparta) 48-5 won by tech fall over Tyler Larsen (Muskego) 3-2 (TF-1.5 4:00 (15-0))
Round 3 – Hayden Krein (Sparta) 48-5 won by fall over Dakota Brockman (Freedom) 8-3 (Fall 3:19)
Quarterfinal – Hayden Krein (Sparta) 48-5 won by major decision over Edgar Heredia (Oshkosh West) 33-15 (MD 12-0)
Semifinal – Hayden Krein (Sparta) 48-5 won by decision over Ben Klister (Wrightstown) 43-10 (Dec 4-3)
1st Place Match – Hayden Krein (Sparta) 48-5 won by major decision over Michael Bertrand (Southern Door) 44-10 (MD 11-2)
170 – Matt Fahning (14-14) placed 9th and scored 27.00 team points.
Round 2 – Matt Fahning (Sparta) 14-14 received a bye () (Bye)
Round 3 – Jon Thomas (Menomonee Falls) 22-16 won by decision over Matt Fahning (Sparta) 14-14 (Dec 5-1)
Cons. Round 1 – Matt Fahning (Sparta) 14-14 won by decision over Conner Goodman (Pewaukee) 3-2 (Dec 8-6)
Cons. Round 2 – Matt Fahning (Sparta) 14-14 won by fall over Ihab Khatib (Appleton North) 6-6 (Fall 5:00)
9th Place Match – Matt Fahning (Sparta) 14-14 won by fall over Noah Rugaber (Franklin) 14-20 (Fall 4:26)
182 – James Gann (19-21) placed 12th and scored 17.00 team points.
Round 2 – James Gann (Sparta) 19-21 received a bye () (Bye)
Round 3 – Breyden Papineau (Escanaba) 30-15 won by fall over James Gann (Sparta) 19-21 (Fall 0:38)
Cons. Round 1 – James Gann (Sparta) 19-21 won by fall over Wyatt Klumb (Mukwonago) 4-5 (Fall 3:21)
Cons. Round 2 – Grady Sullivan (Oshkosh West) 11-10 won by fall over James Gann (Sparta) 19-21 (Fall 1:49)
11th Place Match – Connor Schwartz (Muskego) 3-2 won by fall over James Gann (Sparta) 19-21 (Fall 2:38)
195 – Austin Zwiefel (25-22) placed 7th and scored 28.00 team points.
Round 2 – Austin Zwiefel (Sparta) 25-22 received a bye () (Bye)
Round 3 – Austin Zwiefel (Sparta) 25-22 won by decision over Dayln Rudesill (Green Bay West/East/Southwest) 23-19 (Dec 7-3)
Quarterfinal – Jacob Raschka (Pewaukee) 59-0 won by fall over Austin Zwiefel (Sparta) 25-22 (Fall 1:44)
Cons. Round 2 – Tyler McVane (Ashwaubenon) 28-17 won by decision over Austin Zwiefel (Sparta) 25-22 (Dec 4-0)
7th Place Match – Austin Zwiefel (Sparta) 25-22 won by decision over Gavin McNally (Muskego) 24-20 (Dec 7-2)
220 – Garet Pfaff (3-2) placed 17th and scored 9.00 team points.
Round 1 – Brandon Berg (Pewaukee) 47-7 won by fall over Garet Pfaff (Sparta) 3-2 (Fall 0:30)
Round 2 – T.J. Weidman (Denmark) 4-1 won by fall over Garet Pfaff (Sparta) 3-2 (Fall 1:30)
Cons. Round 1 – Garet Pfaff (Sparta) 3-2 received a bye () (Bye)
Cons. Round 2 – Garet Pfaff (Sparta) 3-2 received a bye () (Bye)
17th Place Match – Garet Pfaff (Sparta) 3-2 won by fall over Mason Davis (Southern Door) 2-3 (Fall 2:29)