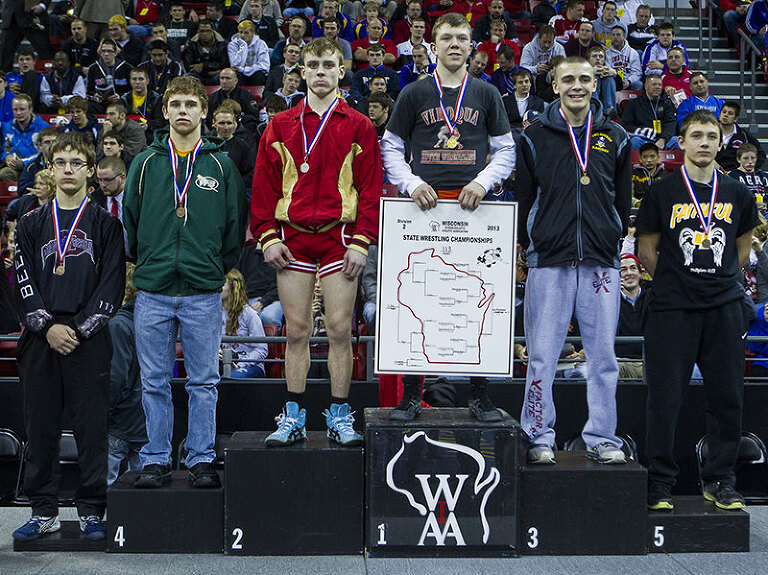 Saturday's regional at West Salem looks to be pretty similar to last year.  Sparta leads all teams with five ranked wrestlers while Mauston has four, Adams-Frienship and Viroqua two and Wisconsin Dells and West Salem/Bangor at one apiece.  While a few of the teams don't have a ton of ranked wrestlers, they feature some of the best in the state.
Two wrestlers will put their undefeated records on the line Saturday.  Devin Bahr of West Salem/Bangor is a freshman, but don't let that fool you.  He's 41-0 and has been ranked number one at his weight class all year long.  For Mauston, there is Justin Dolata who is 24-0 and the top-ranked wrestler at 170.  The highly ranked wrestlers don't end there either.  Adams-Friendship's Trenton McManus is 2nd at 106, Viroqua's JJ McClelland is 2nd at 120 and Mauston's Spencer Davies is 2nd at 126.
All in all, there are seven wrestlers ranked in the top five of their respective weight classes at this regional.  On paper, it appears the 106, 113 and 132 pound weight classes are the toughest.  At 113, we have three ranked wrestlers while at 132, there are three wrestlers with more than 30 wins and another at 23-13.  Regionals is sometimes tougher to advance out of because only the top two wrestlers will advance while at sectionals, the top three move on.
Let's see the ranked wrestlers from each team…
Adams-Friendship  –  Trenton McManus (35-2, 2nd at 106), Cole Clark (HM at 120)
Mauston  –  Chris Ruf (29-8, HM at 106), Colton Winders (26-8, HM at 113), Spencer Davies (35-1, 2nd at 126, moved down to 120 for postseason), Justin Dolata (24-0, 1st at 170)
Sparta  –  Christian Lamon (26-8, HM at 113), John Roddick (35-7, 4th at 126), Brock Polhamus (34-7, 5th at 138), Dylan Winchel (21-13, 8th at 145), Logan Degenhardt (32-9, 6th at 220)
Viroqua  –  Max Dach (30-12, HM at 113), JJ McClelland (35-4, 2nd at 120)
West Salem/Bangor  –  Devin Bahr (41-0, 1st at 132)
Wisconsin Dells  –  Max Obois (30-9, HM at 138)
Let's see how Sparta has done against regional competition this season…
106, Corey Zimmerman  – pinned by West Salem/Bangor's Noah Reedy in 59 seconds at the Dells Duals Classic, pinned Viroqua's Jansen McClelland in 4:05 at the Lancaster Invite, lost 12-0 to Mauston's Chris Ruf at Sparta Invite,
113, Christian Lamon  –  defeated West Salem/Bangor's Trevor Resheske by pin in 1:54 at the Dells Duals Classic, pinned Mauston's Colton Winders in 3:25 at Sparta Invite,
126, John Roddick  –  lost 7-6 to Mauston's Spencer Davies at Sparta Invite, Davies has moved down to 120 for regionals,
132, Jaden Winchel  –  pinned by West Salem/Bangor's Devin Bahr in 2:53 at Dells Duals Classic, pinned Viroqua's Taylor Gilardi in 0:46 at the Lancaster Invite, defeated Mauston's John Maki 8-1 at Sparta Invite,
220, Logan Degenhardt  –  pinned West Salem/Bangor's Zach Denton in 1:25 at Dells Duals Classic,
Jaden Winchel is going to have a tough time with West Salem/Bangor's Devin Bahr, but he breezed through two of the other top wrestlers in his weight class picking up a 46 second pin in one win and an 8-1 victory in the other.  And at 113, freshman Christian Lamon has a good shot at the top seed after his pin of Mauston's Colton Winders at the Sparta Invite.  Lamon and Winders both enter regionals with a 26-8 record.  John Roddick won't have to see Spencer Davies again as Davies dropped down to 120 pounds, which opens things up quite a bit for Roddick.
Last year, the Spartans finished second at regionals just 6.5 points back of Mauston.  This year they will look to avenge that runner-up finish as it appears Mauston, West Salem/Bangor and Sparta are all pretty evenly matched.  Every point will be crucial.  Last year, Mauston won the regional in the second round when they picked up four victories in the final 30 seconds of matches they were behind in.  Sparta will need to use their experience in close matches and duals to advance to team sectionals.
This also appears to be the first tournament where Sparta will have a wrestler at every weight class.  This is important because with just six teams at the regional, it helps to have every weight class covered.
A complete rundown of every wrestler, their record and which weight class they will be wrestling is below.  Action begins at 11am Saturday at West Salem High School.