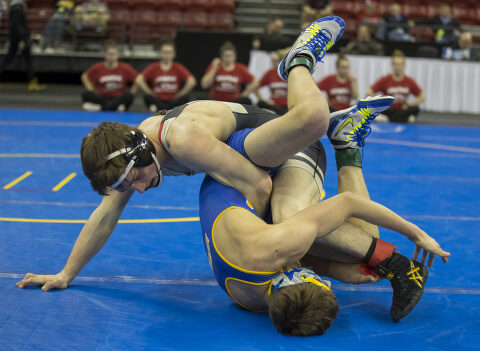 Seniors Brett Von Ruden and Hayden Krein will end their Spartan careers on the podium, but where exactly they will be standing is yet to be determined.  Von Ruden survived two rounds of wrestlebacks and a bout with the flu to  reach the podium for the first time while Krein dropped a 10-4 decision in the semifinals to undefeated and top-ranked Parker Keckeisen.  Both will wrestle in the round beginning at 10am Saturday.
For each wrestler, a win in their first match will send them to the third place bout.  A loss will send them to the fifth place match.
Von Ruden opened the action today with a 9-3 victory against Oshkosh West's Connor Collins before following it up with a 10-4 victory over Mukwonago's Jake Schulte.  The victories were even more impressive considering Von Ruden was not only battling some of the best wrestlers in the state, but also a case of the flu.  He will face Rhinelander's Jacob DeMeyer in his first wrestleback tomorrow.  Earlier this season, Von Ruden dropped a 3-2 decision to DeMeyer in the finals of the Battle on the Bay.
At 170 pounds, Hayden Krein had trouble fending off Nicolet's Parker Keckeisen who took Krein down five times en route to a 10-4 victory.  Krein will now face Kenosha Bradford/Reuther's Jake Deates.  A win puts Krein in the third place match with a chance to finish in the top three all four years at state.
Below is the full summary for Brett and Hayden's two days at state…
145  –  Brett Von Ruden (42-4) placed 6th and scored 7.00 team points.
Champ. Round 1 – Brett Von Ruden (Sparta) 42-4 won by decision over Nolan Hertel (Marshfield) 29-7 (Dec 8-6)
Quarterfinal – Max Bruss (De Pere) 43-4 won in sudden victory – 1 over Brett Von Ruden (Sparta) 42-4 (SV-1 7-5)
Cons. Round 1 – Brett Von Ruden (Sparta) 42-4 won by decision over Connor Collins (Oshkosh West) 36-11 (Dec 9-3)
Cons. Round 2 – Brett Von Ruden (Sparta) 42-4 won by decision over Jake Schulte (Mukwonago) 31-19 (Dec 10-4)
170  –  Hayden Krein (41-7) placed 6th and scored 6.00 team points.
Champ. Round 1 – Hayden Krein (Sparta) 41-7 won by fall over Sam Tourtilott (Shawano Com.) 21-16 (Fall 1:30)
Quarterfinal – Hayden Krein (Sparta) 41-7 won by major decision over Nolan Paar (Oak Creek) 45-4 (MD 10-2)
Semifinal – Parker Keckeisen (Nicolet) 30-0 won by decision over Hayden Krein (Sparta) 41-7 (Dec 10-4)