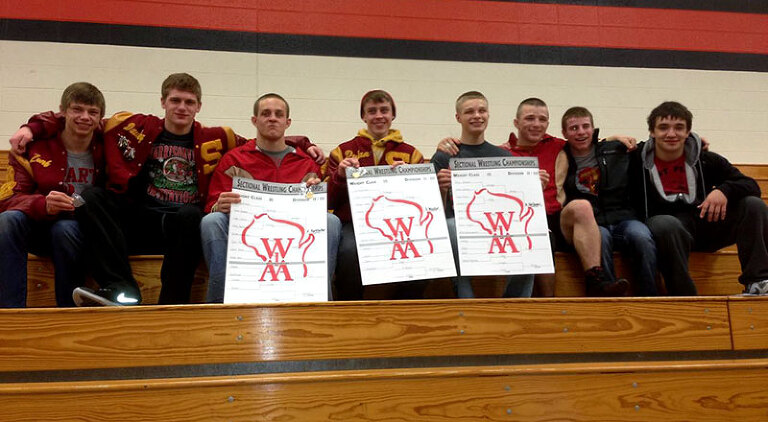 It's a good day to be a Spartan wrestling fan.  In what was a record-breaking day for the Spartan wrestling team, they qualified seven wrestlers to the state tournament.  Sectional champs include Dylan Winchel, Brock Polhamus and Kyle Burkhalter. John Roddick and Michael Murnane advanced to the finals, but lost while Tristan Zurfluh and Daniel Dawley lost their semifinal matches but wrestled their way back to the Kohl Center.  Sparta's only sectional qualifier who didn't move on to state was 220-pounder Chase Bernett who lost his opening round match and then was eliminated when the guy who beat him lost his semifinal bout.
The seven state qualifiers is a program record and represents half the varsity wrestlers on the team.  Last year, the Spartans set the previous record at six.  In what might be the most impressive victory by a Spartan wrestler today, 113-pounder Dylan Winchel dominated the top ranked wrestler in the state, Viroqua's JJ McClelland, 15-6 to advance as sectional champion for a second year in a row.  Just last weekend, McClelland downed Winchel in the regional finals 12-6.  Last year followed the same theme with McClelland soundly defeating Winchel a couple times before their sectional final bout, which Winchel dominated.  Either way, it's good to see Dylan wrestling his best at the right time of the year.  The same can be said about Sparta's other six qualifiers.
Brock Polhamus also had little trouble winning his bracket.  He had a close 2-1 victory in the semifinals, but won impressively in the finals over a kid from Monroe with 38 wins.  At 182 pounds, Kyle Burkhalter was untested on the day with a pin and two major decision victories.
Roddick fell in the finals after getting caught by Adams-Friendship's Trevor McManus and losing by pin in the second period.  Tristan Zurfluh advanced after losing his first match by winning his next two comfortably.  Michael Murnane made it to the finals before falling to Joe Crook of River Valley and then Marshall's Devin Weber in the second place match.  Finally, at 195 pounds Daniel Dawley won after losing his first match by winning the next two.
So what's all this mean?  It means Roddick, Zurfluh, Murnane and Dawley will wrestle Thursday evening at the Kohl Center while Winchel, Polhamus and Burkhalter will wrestle their first match on Friday.  I (Derek) will be there all three days of the tournament capturing Spartans in action while also shooting for the Eau Claire Leader Telegram.  I'm looking forward to seeing all the guys in action again.
We will have video interviews, state previews and more this week before the state tournament kicks off.  Congrats Spartans on your record setting day!
Below is how the Spartans did in all their matches today…
113 – Dylan Winchel (25-4) placed 1st and scored 21.00 team points.
Quarterfinal – Dylan Winchel (Sparta) 25-4 won by decision over Clayton Beers (Prairie du Chien/Wauzeka-Steuben) 31-7 (Dec 8-4)
Semifinal – Dylan Winchel (Sparta) 25-4 won by pin over Justin Sangermano (Brodhead/Juda) 26-13 (Pin 1:00)
1st Place Match – Dylan Winchel (Sparta) 25-4 won by major decision over JJ McClelland (Viroqua) 44-2 (Maj 15-6)
120 – John Roddick (38-11) placed 2nd and scored 17.00 team points.
Quarterfinal – John Roddick (Sparta) 38-11 won by pin over Brandon Robinson (Evansville/Albany) 26-7 (Pin 3:38)
Semifinal – John Roddick (Sparta) 38-11 won by major decision over Josh Murray (Marshall) 32-7 (Maj 12-3)
1st Place Match – Trevor McManus (Adams-Friendship) 27-4 won by pin over John Roddick (Sparta) 38-11 (Pin 2:37)
2nd Place Match – John Roddick (Sparta) 38-11 won by rule over Josh Murray (Marshall) 32-7 (RULE)
132 – Brock Polhamus (33-10) placed 1st and scored 19.00 team points.
Quarterfinal – Brock Polhamus (Sparta) 33-10 won by decision over Hunter Whitney (Richland Center) 31-15 (Dec 12-6)
Semifinal – Brock Polhamus (Sparta) 33-10 won by decision over Jordan Meyer (Evansville/Albany) 29-6 (Dec 2-1)
1st Place Match – Brock Polhamus (Sparta) 33-10 won by major decision over Aaron Hesgard (Monroe) 38-10 (Maj 12-2)
138 – Tristan Zurfluh (23-8) placed 3rd and scored 8.00 team points.
Quarterfinal – Kevin Klopfenstein (Monroe) 42-5 won by decision over Tristan Zurfluh (Sparta) 23-8 (Dec 3-2)
Cons. Semi – Tristan Zurfluh (Sparta) 23-8 won by decision over John Hentrich (Belmont/Platteville) 21-15 (Dec 8-1)
3rd Place Match – Tristan Zurfluh (Sparta) 23-8 won by decision over Jasper Meeker (Dodgeville) 33-10 (Dec 7-2)
2nd Place Match – Kevin Klopfenstein (Monroe) 42-5 won by rule over Tristan Zurfluh (Sparta) 23-8 (RULE)
145 – Michael Murnane (33-14) placed 3rd and scored 13.00 team points.
Quarterfinal – Michael Murnane (Sparta) 33-14 won by pin over Mitchell Hasey (Columbus) 31-7 (Pin 5:25)
Semifinal – Michael Murnane (Sparta) 33-14 won by decision over Tim Clothier (Clinton) 33-9 (Dec 7-0)
1st Place Match – Joe Crook (River Valley) 37-8 won by pin over Michael Murnane (Sparta) 33-14 (Pin 3:53)
2nd Place Match – Devin Weber (Marshall) 45-3 won by decision over Michael Murnane (Sparta) 33-14 (Dec 7-2)
182 – Kyle Burkhalter (38-6) placed 1st and scored 22.00 team points.
Quarterfinal – Kyle Burkhalter (Sparta) 38-6 won by pin over Silas Coleman (Richland Center) 31-15 (Pin 3:41)
Semifinal – Kyle Burkhalter (Sparta) 38-6 won by major decision over Dusty Burkhalter (Monroe) 30-19 (Maj 10-1)
1st Place Match – Kyle Burkhalter (Sparta) 38-6 won by major decision over Vincent Anderson (Belmont/Platteville) 26-8 (Maj 15-5)
195 – Daniel Dawley (32-9) placed 3rd and scored 10.00 team points.
Quarterfinal – Jack Nelson (Belleville/Monticello/New Glarus) 27-13 won by decision over Daniel Dawley (Sparta) 32-9 (Dec 4-0)
Cons. Semi – Daniel Dawley (Sparta) 32-9 won by pin over Cody Dolson (Lodi) 20-21 (Pin 1:51)
3rd Place Match – Daniel Dawley (Sparta) 32-9 won by decision over Ben Reed (Evansville/Albany) 32-11 (Dec 5-3)
2nd Place Match – Jack Nelson (Belleville/Monticello/New Glarus) 27-13 won by rule over Daniel Dawley (Sparta) 32-9 (RULE)
220 – Chase Bernett (29-19) place is unknown and scored 0.00 team points.
Quarterfinal – Brendon Krull (Jefferson) 22-11 won by pin over Chase Bernett (Sparta) 29-19 (Pin 3:07)