Sparta finished 3rd at the Harrisonville Christmas Tournament out of 39 teams. With 783 team points, the Spartans finished 44 points behind team champions Kirksville and 35.5 points back fo 2nd place Deer Creek. Sparta was a strong third 72.5 points ahead of Grain Valley's 706.5 points.
One of the remarkable things about this finish is that the Spartans came pretty close to a team championship without having a single champion. Only Kyle Burkhalter (2nd) reached the finals, but the Spartans did place seven wrestlers in the top five and 11 in the top 10 to be consistently strong from top to bottom over two days where most saw eight matches.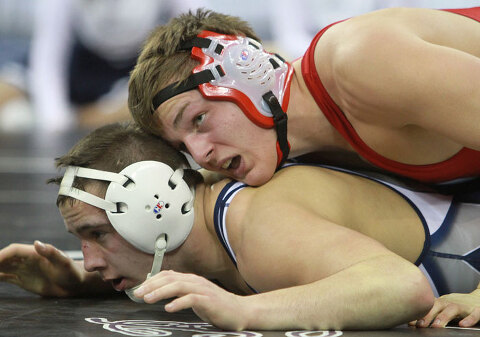 Leading the way for Sparta was Kyle Burkhalter who finished 2nd and fell to two-time state champion Travis Lang of Kirksville by pin in 54 seconds. Before that match, Burkhalter had been dominant registering four pins, a technical fall victory and a 5-2 victory over Smithville's Matt Ray who entered his match with Burkhalter with a record of 21-2.
After Burkhalter, there were a number of 3rd, 4th and 5th place finishers. Dylan Winchel and Derek VonRuden finished 3rd, Tristan Zurfluh 4th and John Roddick, Brock Polhamus, Toby Mosley 5th. Chris Beeler was 6th, Michael Murnane 9th, Robert Ragan 10th, Greg Skon 10th, Daniel Dawley 11th, Logan Degenhardt 13th and Julius Julson 21st.
Records throughout the tournament for all Spartan wrestlers are as follows:  Dylan Winchel 7-1, John Roddick 6-2, Brock Polhamus, 6-2, Tristan Zurfluh 6-2, Julius Julson 2-6, Derek VonRuden 7-1, Michael Murnane 6-2, Toby Mosley 6-2, Robert Ragan 5-3, Greg Skon 4-4, Kyle Burkhalter 7-1, Daniel Dawley 5-3, Logan Degenhardt 5-3 and Chris Beeler 5-3.
The Spartans racked up some impressive victories in their final matches of the day.  In the 3rd place match, Dylan Winchel defeated Deer Creek's Andrew Prescott 3-2 while at 113 pounds, John Roddick came out with a 12-3 major decision victory over Osage's Chris Johnson (15-5).  Likewise, at 120 pounds, Brock Polhamus also scored a 10-0 major decision victory in his 5th place match against St. Joseph Benton's Keone Snapp (12-3).  At 138 pounds, Derek VonRuden defeated Deer Creek's Atticus Young (18-4) in overtime 6-4.
Michael Murnane overcame some tough competition and a slow start to the tournament to win his final four matches of the tournament and six of seven.  At 160 pounds, Robert Ragan defeated Pleasant Hill's Kolin Rogers (16-7) by a score of 9-7 while at 182 pounds, Kyle Burkhalter won his match 5-2 against Smithville's Matt Ray (21-3).
Over two days, Sparta registered 38 pins. The Spartans have never finished worse than third in Harrisonville, but have yet to bring home a team title. Last  year they finished second 101 points back of Deer Creek while two years ago, the Spartans were third in their first year at the tournament.
The Spartan JV team consisting of Margo Degenhardt and Paul Vantassel finished 29th out of 39 teams with 80 points. Vantassel finished 10th going 5-3 while Degenhardt finished 14th after going 2-5.
If you'd like to see complete results from the two days of wrestling, click here.  Sparta is off until Friday when they head to Madison for the Badger State Tournament. Congrats Sparta on another solid showing in Harrisonville!