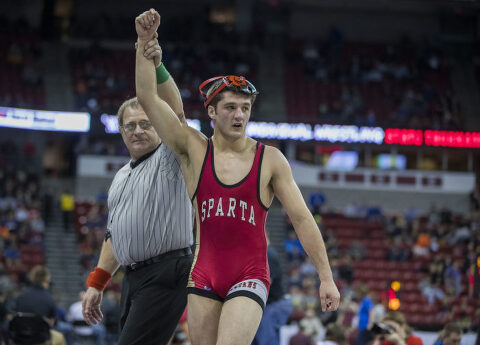 Wrestling without a full team, the Spartans finished in 8th place with 295 points at the 25-team Battle on the Bay in Bayport, Wisc.  Leading the way were champions Jon Bailey and Hayden Krein.  Brett Von Ruden finished 2nd while David Hayes was 4th to round out the Spartans who finished in the top 10.
Hayden Krein was absolutely dominant Saturday with three first period pins in his first three matches including two in under a minute.  His semifinal match was another victory by pin in 3:19 while the championship match was a 9-0 major decision victory.  At 126 pounds, Jon Bailey avenged a second-place finish last year by defeating Ashwaubenon's Fernando Coronado in the championship.  Bailey was up four points before the match was ended due to blood time.
At 152 pounds, Brett Von Ruden lost a close 3-2 match in the finals to Rhinelander's Jacob DeMeyer who is currently ranked 4th in division one at 160 pounds.
It was a strong finish in a loaded tournament for the Spartans despite wrestling without anyone at 106 and 113 and without a couple guys who are still recovering from injury or waiting until they can drop down due to new weight rules.
It has not been an easy three weeks of competition for the Spartans.  In the first three weeks of the season, Sparta has crossed paths with 10 of the top 16 teams from the 2017 WIAA Team State Tournament and that number will reach 16 by the end of the year.  The Spartans could travel to easier tournaments, but it's this difficult competition that will get the Spartans ready for the important matches in February.
Significant wins on the day included…
Jon Bailey's victory over Fernando Coronado who is currently ranked 7th at 132 in D1
Jon Bailey's victory over Lucas Benn who is currently an honorable mention at 126 in D1
David Hayes' 7-2 victory over Mukwonago's Jake Schulte who is currently an honorable mention at 145 in D1
Brett Von Ruden's pin in 5:19 over Muskego's Evan Sinda who is currently ranked 5th at 152 in D1
Hayden Krein's 9-0 victory in the finals over Luxemburg-Casco's Devan Vandenbush is currently ranked 3rd at 170 in D2
Mathias Krein's 13-4 major decision victory over Mukwonago's Jacob Stachowski who is currently ranked 7th at 182 in D1
Full summarized individual and team results are below…
120  –  Vince Polhamus, 15th Place, 1-3 with a major decision
126  –  Jon Bailey, 1st Place, 5-0 with a pin and major decision
132  –  Thomas Treu, 14th Place, 1-3
138  –  Seth Boland, 18th Place, 0-3
145  –  David Hayes, 4th Place, 3-2
152  –  Brett Von Ruden, 2nd Place, 4-1 with three pins and a major decision
160  –  Hayden Krein, 1st Place, 5-0 with four pins and a major decision
170  –  Mathias Krein, 9th Place, 4-1 with two pins and two major decision
182  –  Kelten Pfaff, 21st Place, 1-3
195  –  Marcus Cox, 18th Place, 1-3 with a pin
220  –  Garet Pfaff, 11th Place, 2-2 with two pins
285  –  Gabe Dearman, 12th Place, 1-3 with a pin
Team Scores
[one_half padding="0 50px 0 30px"]1. Luxemburg-Casco 468.5
2.  Mukwonago 441.5
3.  Depere 370
4. Wrightstown 360
5.  Denmark
6. Rhinelander 329
7. Ashwaubenon 316.5
8. Sparta 295
9. Appleton North 294
10. Muskego 293.5
11. Oshkosh West 280.5
12. Hortonville 278.5
13. Bay Port 277[/one_half]
[one_half padding="0 0px 0 0px"]14. Pewaukee 271.5
15. Green Bay Preble 265
16. East Troy 219
17. Green Bay West/East/Southwest 216
18. West De Pere 191.5
19. Oconto Falls 180
20. Oak Creek 173.5
21. Escanaba 151
22. Southern Door 129
23. Franklin 113
24. Mishicot 104
25. St. Johns' NW Military Academy 55[/one_half]
Full individual results below…
120 – Vince Polhamus (8-6) placed 15th and scored 10.00 team points.
Round 2 – Vince Polhamus (Sparta) 8-6 won by major decision over Fahad Aziz (Franklin) 0-4 (MD 13-1)
Round 3 – Eric Barnett (Hortonville) 50-0 won by tech fall over Vince Polhamus (Sparta) 8-6 (TF-1.5 3:45 (26-9))
Cons. Round 1 – Trent Francois (West De Pere) 27-16 won by decision over Vince Polhamus (Sparta) 8-6 (Dec 7-3)
Cons. Round 2 – Tyler Budz (Oconto Falls) 34-19 won by fall over Vince Polhamus (Sparta) 8-6 (Fall 3:11)
15th Place Match – Vince Polhamus (Sparta) 8-6 received a bye () (Bye)
126 – Jon Bailey (45-6) placed 1st and scored 52.00 team points.
Round 1 – Jon Bailey (Sparta) 45-6 won by decision over Quincy Klister (Wrightstown) 4-1 (Dec 11-5)
Round 3 – Jon Bailey (Sparta) 45-6 won by fall over Joshua Finerty (Franklin) 15-23 (Fall 1:15)
Quarterfinal – Jon Bailey (Sparta) 45-6 won by major decision over Collin Derenne (Green Bay Preble) 28-18 (MD 18-6)
Semifinal – Jon Bailey (Sparta) 45-6 won by decision over Lucas Benn (Mukwonago) 16-5 (Dec 8-4)
1st Place Match – Jon Bailey (Sparta) 45-6 won by injury default over Fernando Coronado (Ashwaubenon) 45-8 (Inj. 5:15)
132 – Thomas Treu (4-17) placed 14th and scored 11.00 team points.
Round 2 – Thomas Treu (Sparta) 4-17 received a bye () (Bye)
Round 3 – Austin Heim (Bay Port) 26-17 won by major decision over Thomas Treu (Sparta) 4-17 (MD 16-3)
Cons. Round 1 – Grant Englebert (Southern Door) 2-3 won by decision over Thomas Treu (Sparta) 4-17 (Dec 9-2)
Cons. Round 2 – Thomas Treu (Sparta) 4-17 won by decision over Noah Huckins (Green Bay Preble) 11-27 (Dec 13-9)
13th Place Match – Alex Lai (Muskego) 8-8 won by decision over Thomas Treu (Sparta) 4-17 (Dec 3-2)
138 – Seth Boland (0-3) placed 18th and scored 2.00 team points.
Round 1 – Hunter Larson (Escanaba) 41-8 won by fall over Seth Boland (Sparta) 0-3 (Fall 1:26)
Round 2 – Bryce Gerner (Hortonville) 4-8 won by fall over Seth Boland (Sparta) 0-3 (Fall 0:13)
Cons. Round 1 – Seth Boland (Sparta) 0-3 received a bye () (Bye)
Cons. Round 2 – Seth Boland (Sparta) 0-3 received a bye () (Bye)
17th Place Match – Drew Price (Southern Door) 3-2 won by fall over Seth Boland (Sparta) 0-3 (Fall 1:22)
145 – David Hayes (27-14) placed 4th and scored 38.00 team points.
Round 1 – David Hayes (Sparta) 27-14 received a bye () (Bye)
Round 3 – David Hayes (Sparta) 27-14 won in sudden victory – 1 over Wyatt Borkovec (Oconto Falls) 27-16 (SV-1 6-4)
Quarterfinal – David Hayes (Sparta) 27-14 won by decision over Jake Schulte (Mukwonago) 28-19 (Dec 7-2)
Semifinal – Max Bruss (DePere) 41-9 won by decision over David Hayes (Sparta) 27-14 (Dec 6-0)
3rd Place Match – Walker VandeHey (Wrightstown) 32-13 won by fall over David Hayes (Sparta) 27-14 (Fall 3:30)
152 – Brett Von Ruden (32-15) placed 2nd and scored 50.00 team points.
Round 1 – Brett Von Ruden (Sparta) 32-15 won by fall over Ethan Brossard (Mishicot) 1-4 (Fall 0:33)
Round 3 – Brett Von Ruden (Sparta) 32-15 won by fall over Tyler Mudd (West De Pere) 8-19 (Fall 0:57)
Quarterfinal – Brett Von Ruden (Sparta) 32-15 won by major decision over Marty Kiernan (Ashwaubenon) 25-17 (MD 16-5)
Semifinal – Brett Von Ruden (Sparta) 32-15 won by fall over Evan Sinda (Muskego) 30-10 (Fall 5:19)
1st Place Match – Jacob DeMeyer (Rhinelander) 48-2 won by decision over Brett Von Ruden (Sparta) 32-15 (Dec 3-2)
160 – Hayden Krein (40-2) placed 1st and scored 56.00 team points.
Round 1 – Hayden Krein (Sparta) 40-2 won by fall over Brady Kinjerski (Mishicot) 0-3 (Fall 0:48)
Round 3 – Hayden Krein (Sparta) 40-2 won by fall over Zach Olbrantz (Ashwaubenon) 1-4 (Fall 1:49)
Quarterfinal – Hayden Krein (Sparta) 40-2 won by fall over Ben Terlion (Muskego) 15-12 (Fall 0:51)
Semifinal – Hayden Krein (Sparta) 40-2 won by fall over Colin Schuler (Hortonville) 33-14 (Fall 3:19)
1st Place Match – Hayden Krein (Sparta) 40-2 won by major decision over Devan Vandenbush (Luxemburg-Casco) 40-13 (MD 9-0)
170 – Mathias Krein (12-3) placed 9th and scored 27.00 team points.
Round 2 – Mathias Krein (Sparta) 12-3 won by fall over Jake Dessart (East Troy) 3-2 (Fall 1:00)
Round 3 – Edgar Heredia (Oshkosh West) 37-15 won by major decision over Mathias Krein (Sparta) 12-3 (MD 12-4)
Cons. Round 1 – Mathias Krein (Sparta) 12-3 won by fall over Noah Rugaber (Franklin) 16-14 (Fall 0:20)
Cons. Round 2 – Mathias Krein (Sparta) 12-3 won by major decision over Scout Wunder (Escanaba) 3-2 (MD 11-1)
9th Place Match – Mathias Krein (Sparta) 12-3 won by major decision over Jacob Stachowski (Mukwonago) 25-19 (MD 13-4)
182 – Kelten Pfaff (2-3) placed 21st and scored 4.00 team points.
Round 1 – Tim VandeVoort (Wrightstown) 9-8 won by decision over Kelten Pfaff (Sparta) 2-3 (Dec 8-5)
Round 2 – Isreal Gayle (Oak Creek) 5-5 won by decision over Kelten Pfaff (Sparta) 2-3 (Dec 9-5)
Cons. Round 1 – Quinton Schuyler Jr. (West De Pere) 8-10 won by fall over Kelten Pfaff (Sparta) 2-3 (Fall 5:42)
Cons. Round 2 – Kelten Pfaff (Sparta) 2-3 received a bye () (Bye)
21st Place Match – Kelten Pfaff (Sparta) 2-3 won by injury default over Mike Fedder (Pewaukee) 6-9 (Inj. 2:00)
195 – Marcus Cox (2-3) placed 18th and scored 6.00 team points.
Round 2 – Devyn Boehler (Muskego) 1-4 won by decision over Marcus Cox (Sparta) 2-3 (Dec 6-1)
Round 3 – Brock Danielski (Appleton North) 42-14 won by fall over Marcus Cox (Sparta) 2-3 (Fall 3:21)
Cons. Round 1 – Marcus Cox (Sparta) 2-3 received a bye () (Bye)
Cons. Round 2 – Marcus Cox (Sparta) 2-3 won by fall over Joey Selke (Mishicot) 1-3 (Fall 0:54)
17th Place Match – Jacob Peterson (Oconto Falls) 3-2 won by decision over Marcus Cox (Sparta) 2-3 (Dec 4-1)
220 – Garet Pfaff (15-18) placed 11th and scored 22.00 team points.
Round 2 – Garet Pfaff (Sparta) 15-18 received a bye () (Bye)
Round 3 – Ethan Witcpalek (Wrightstown) 22-22 won by decision over Garet Pfaff (Sparta) 15-18 (Dec 8-1)
Cons. Round 1 – Garet Pfaff (Sparta) 15-18 won by fall over John Pekar (Franklin) 1-4 (Fall 2:42)
Cons. Round 2 – Brady Buchman (Hortonville) 14-23 won by fall over Garet Pfaff (Sparta) 15-18 (Fall 4:46)
11th Place Match – Garet Pfaff (Sparta) 15-18 won by fall over David Sanchez (Oak Creek) 5-5 (Fall 1:46)
285 – Gabe Dearman (6-11) placed 12th and scored 17.00 team points.
Round 2 – Gabe Dearman (Sparta) 6-11 received a bye () (Bye)
Round 3 – Jacob Mast (East Troy) 21-17 won by fall over Gabe Dearman (Sparta) 6-11 (Fall 1:36)
Cons. Round 1 – Gabe Dearman (Sparta) 6-11 won by fall over Abel Savage (Pewaukee) 2-3 (Fall 6:00)
Cons. Round 2 – William Townley (Bay Port) 11-15 won by fall over Gabe Dearman (Sparta) 6-11 (Fall 2:34)
11th Place Match – Cole Kraynik (Mishicot) 19-22 won by fall over Gabe Dearman (Sparta) 6-11 (Fall 0:45)