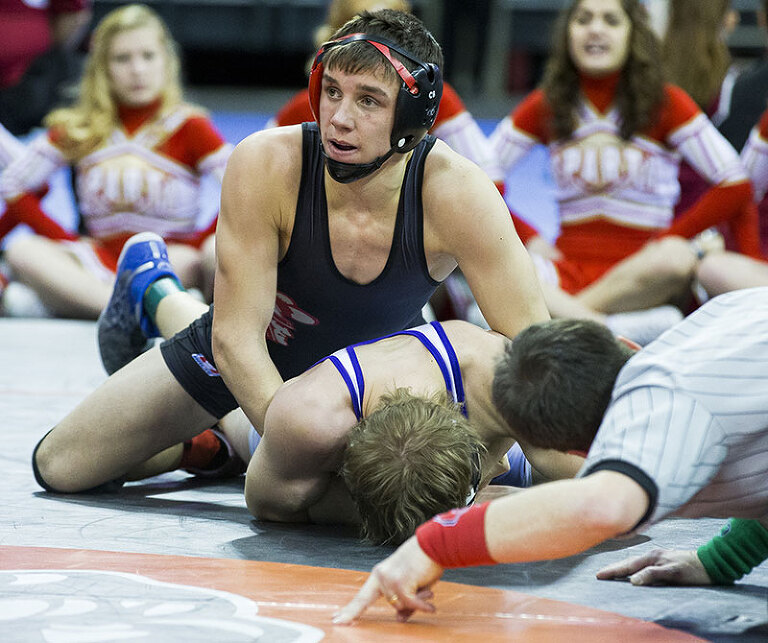 Seven Spartan wrestlers traveled to Wisconsin Dells last weekend and competed in the tough Dominate in the Dells tournament.  Alice Todryk, Jaden Winchel, Dylan Winchel , Logan Degenhardt, Hayden Krein, Jon Bailey and Vince Polhamus competed at the tournament that featured wrestlers from 331 clubs and schools.
Leading the way for high school Spartans was freshman Jaden Winchel who went 6-2 at the tournament to finish in third place.  In the third place match, Winchel defeated Evansville/Albany's Jordan Meyer 8-5.  Meyer defeated Winchel 14-4 at sectionals and was a state runner-up to West Salem/Bangor's Devin Bahr.
Dylan Winchel went 4-2, but did not place.  He lost his opening round match to Menomonie's Logan Schlough who finished 3rd in division one at 132 pounds at this year's state tournament.  After the loss, Winchel picked up four straight victories before falling in the consolation quarterfinals.  Also competing for the Spartans was Alice Todryk and Logan Degenhardt.
The middle school saw three wrestlers finish in 2nd.  Vince Polhamus, Jon Bailey and Hayden Krein all finished 2nd.  Both Bailey and Krein lost their championship matches and won their second place matches by rule while Polhamus wrestled back to earn 2nd place.  Both Spartans who advanced to the finals lost close matches.  Bailey dropped a 4-2 decision while Krein fell 7-6.
Check out the full match-by-match results for the Spartans below…
TOA – 2014 Dominate in the Dells Results for Sparta
Schoolboy/girl 91 – Alice Todryk's place is unknown and has scored 0.00 team points.
Champ. Round 1 – Jack Tangen (Northshore Edge) won by fall over Alice Todryk (Sparta) (Fall 3:25)
Cons. Round 1 – Benjamin Smith (PWC Trophy Hunters) won by major decision over Alice Todryk (Sparta) (Maj 9-1)
Cadet 132 – Jaden Winchel's place is 3rd and has scored 22.00 team points.
Champ. Round 1 – Jaden Winchel (Sparta) received a bye () (Bye)
Champ. Round 2 – Jaden Winchel (Sparta) won by fall over Drew Fjoser (Sauk Prairie Youth Wrestling) (Fall 1:11)
Quarterfinal – Michael Peters (Road Dawg Wrestling) won by fall over Jaden Winchel (Sparta) (Fall 3:33)
Cons. Round 4 – Jaden Winchel (Sparta) won by major decision over Vincenzo DiGennaro (Advance School Of Wrestling) (Maj 12-1)
Cons. Round 5 – Jaden Winchel (Sparta) won by major decision over Lenny Petersen (No Mercy Wrestling Academy) (Maj 13-1)
Cons. Semi – Jaden Winchel (Sparta) won by decision over Jess Karber (Clark-Willow Lake Cyclones) (Dec 6-2)
3rd Place Match – Jaden Winchel (Sparta) won by decision over Jordan Meyer (Evansville Demons Wrestling Cl) (Dec 8-5)
2nd Place Match – Andrew Wenger (Dakota Wrestling Club) won by decision over Jaden Winchel (Sparta) (Dec 6-3)
Junior 138 – Dylan Winchel's place is unknown and has scored 10.00 team points.
Champ. Round 1 – Logan Schlough (Menomonie wrestling club) won by fall over Dylan Winchel (Sparta) (Fall 3:37)
Cons. Round 1 – Dylan Winchel (Sparta) received a bye () (Bye)
Cons. Round 2 – Dylan Winchel (Sparta) won by fall over Travis Wollenberg (Bonduel) (Fall 1:52)
Cons. Round 3 – Dylan Winchel (Sparta) won by fall over Erik Rupp (Columbus Cardinals Wrestling C) (Fall 2:39)
Cons. Round 4 – Dylan Winchel (Sparta) won by decision over Kyle Hutterer (X-Factor Elite) (Dec 6-4)
Cons. Round 5 – Ricky Vigil (No Mercy Wrestling Academy) won by fall over Dylan Winchel (Sparta) (Fall 3:39)
Junior 220 – Logan Degenhardt's place is unknown and has scored 0.00 team points.
Champ. Round 1 – Beau Thompson (Wisconsin Rapids) won by decision over Logan Degenhardt (Sparta) (Dec 9-3)
Cons. Round 1 – Logan Degenhardt (Sparta) received a bye () (Bye)
Cons. Round 2 – Kenny Maclin (Rockets Youth Wrestling Club) won by decision over Logan Degenhardt (Sparta) (Dec 11-6)
Spartans Wrestling for LAW
Novice 80 – Vince Polhamus's place is 2nd and has scored 19.00 team points.
Champ. Round 1 – Vince Polhamus (LAW) received a bye () (Bye)
Champ. Round 2 – Vince Polhamus (LAW) won by decision over Jack Schmitz (Denmark) (Dec 8-3)
Quarterfinal – Vince Polhamus (LAW) won by decision over Tate Johnson (Legends of Gold) (Dec 4-2)
Semifinal – Deon Davis (Dirty Eagles Wrestling Club) won by tech fall over Vince Polhamus (LAW) (TF 15-0)
Cons. Semi – Vince Polhamus (LAW) won by decision over Jack Schmitz (Denmark) (Dec 8-2)
3rd Place Match – Vince Polhamus (LAW) won by decision over Tate Johnson (Legends of Gold) (Dec 4-2)
2nd Place Match – Vince Polhamus (LAW) won by decision over Jack Bruso (Rochester WC) (Dec 7-0)
Schoolboy/girl 98 – Jon Bailey's place is 2nd and has scored 20.00 team points.
Champ. Round 1 – Jon Bailey (LAW) won by fall over Alexander Deheck (Kewaskum Indians Wrestling Clu) (Fall 3:49)
Champ. Round 2 – Jon Bailey (LAW) won by decision over Will Jefferson (Agoge Wrestling Club) (Dec 6-0)
Quarterfinal – Jon Bailey (LAW) won by decision over Colby Njos (Anoka Youth Wrestling Club) (Dec 1-0)
Semifinal – Jon Bailey (LAW) won by decision over Aaron Schulist (Mukwonago Wrestling Club) (Dec 4-3)
1st Place Match – Austin Boone (Michigan Xtreme) won by decision over Jon Bailey (LAW) (Dec 4-2)
2nd Place Match – Jon Bailey (LAW) won by rule over Aaron Schulist (Mukwonago Wrestling Club) (RULE)
Cadet 138 – Hayden Krein's place is 2nd and has scored 24.00 team points.
Champ. Round 1 – Hayden Krein (LAW) received a bye () (Bye)
Champ. Round 2 – Hayden Krein (LAW) won by fall over Russell Sanchez (North shore edge) (Fall 1:05)
Quarterfinal – Hayden Krein (LAW) won by fall over Max Schmitz (Denmark) (Fall 1:59)
Semifinal – Hayden Krein (LAW) won by decision over Jake Gille (Pulaski) (Dec 9-8)
1st Place Match – Billy Higgins (Berley Brothers) won by decision over Hayden Krein (LAW) (Dec 7-6)
2nd Place Match – Hayden Krein (LAW) won by rule over Jake Gille (Pulaski) (RULE)