The Spartans are making it a habit of sending about half their team to the state tournament each year and the 2013-14 season was no different.  On the heels of seasons where the Spartans sent six wrestlers in 2012 and seven in 2013, the Spartans sent six more this year.  Like the previous years, there were plenty of Spartans still wrestling on Saturday and standing on podiums that evening.  This year, Christian Lamon, John Roddick, Jaden Winchel, Brock Polhamus, Dylan Winchel and Logan Degenhardt made the trip to the Kohl Center.  Dylan Winchel, John Roddick and Brock Polhamus made their third trip to state, which matches a team record set by Steve Kimpel, Kevin Dutton, Troy Lietzau, Jared Rickert and Kyle Burkhalter.  Roddick and Polhamus have a chance to be the first four-time qualifiers next year.
Since 1995 when Josh Isensee qualified for state as a freshman, the Spartans only sent two other freshman wrestlers to state and that was John Roddick and Brock Polhamus in 2012.  Instead of waiting another 17 years between freshman qualifying for state, Sparta only had to wait two years as Christian Lamon and Jaden Winchel qualified.  Jaden made the most out of his appearance with a third place finish at 138.  His only loss was to Wrightstown's Josh Verbeten in the quarterfinals.  After that loss, Winchel would pick up three straight wins to finish third.  And how did the guy who beat Winchel finish?  Verbeten finished 5th.  That's right.  Winchel came back with three straight impressive wins, including one against the top-ranked wrestler in the state coming into the tournament in Stanley-Boyd/Owen-Withee/Thorp's Robert Csukker (46-3), to finish ahead of the guy who beat him.  The top three finishers in state at 132 pounds in division two came from the West Salem sectional.  West Salem's Devin Bahr finished first, Evansville/Albany's Jordan Meyer was 2nd and Winchel was 3rd.  That 3rd place finish is the first time a freshman has placed at state for Sparta.  Winchel finishes the year at 39-14.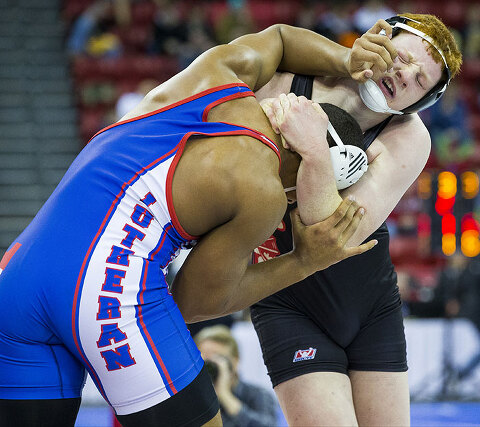 Christian Lamon qualified for the tournament with a 3rd place finish at sectionals, but won his first match at state with a dominant 13-9 decision over Campbellsport's Bennett Marchant.  After that, Lamon dropped a 9-2 decision to Wrightstown's Dillon Micke (43-9) and a 6-2 decision to Lodi's Jason Clapper (43-5).  The 6-2 decision was a big improvement over his technical fall loss to the Lodi senior in sectionals just a few days earlier.  Lamon finishes the year with a 33-12 record.
The good news didn't end there.  At 138 pounds, Brock Polhamus won his first two matches to advance to the state finals.  He beat the coach's son in Luxemburg-Casco's Mason Berceau 7-2 in his first match to advance to the semifinals where he won a 4-3 decision against Ellsworth's Tristan Mueller.  That sent Polhamus to the finals where he would face Two Rivers' Chris Yauch.  The junior from Two Rivers was too much for Polhamus as he won 9-4.  The second place finish was not bad for a guy who had yet to win a match at state during his previous two trips.  Polhamus finishes the season with a 42-8 record.
Fellow junior John Roddick earned a place on the podium for the second year in a row with a 5th place finish at 126 pounds.  Roddick opened up the tournament with a pin over New London's Scott Cook in 4:16.  That was followed by a 6-0 victory over a very tough Cody Chelminiak (40-6) of Delaven-Darien.  After that, it was a familiar story for Roddick as he ran into Ellsworth's Jens Lantz who was going for his fourth state title.  Last year, Lantz pinned Roddick in just over three minutes and this year, the victory came by way of technical fall.  In the wrestleback following his loss to Lantz, Roddick dropped a close decision to Freedom's Cody Walrath.  The official called Roddick for stalling in the third period and it appeared Roddick wasn't aware Walrath had been awarded a point.  My guess is that it is standard to get down to the level of the wrestlers, pound on the mat and warn them of stalling.  That didn't happen here and Roddick was unaware of the point that was awarded.  The point made the difference in a 3-2 loss.  In the 5th place match, Roddick won a 2-0 match he controlled from start to finish.  John finishes the year with a 43-10 record and has finished all three years with 40 or more victories.
At 145 it was one and done for senior Dylan Winchel as he drew defending state champion Dewey Krueger of Oconto Falls.  Krueger was too much for Winchel as he won with a fall in 1:50 and would go on to place 2nd with a 2-1 loss in the finals.  Winchel finished the season with a 26-17 record, a 130-44 record over four years, three trips to the state tournament and two tournaments that ended with a spot on the podium.  The 130 wins is good for 7th all-time on the Spartan wins list.  Congrats Dylan on a great four years.
The final Spartan state qualifier was Logan Degenhardt at 220.  Like Tristan Zurfluh last year, Degenhardt lived and died by the closest of margins.  His first match was an ultimate tie breaker loss to Wisconsin Lutheran's Bryce Roberts.  That was followed by a 1-0 victory over Sheboygan Falls' Brady Koller.  That victory secured a spot on the podium for Degenhardt and set up a match with Almond Bancroft/Pacelli's Jack Lawlis.  In a match that was close throughout, Lawlis emerged with a 6-3 victory, which sent Degenhardt to the 5th place match and rematch with Roberts.  It looked like Degenhardt was going to avenge his loss earlier in the tournament to the Wisconsin Lutheran sophomore, but a takedown by Roberts in the final seconds led to a 2-1 victory and a 6th place finish for Degenhardt.  Logan finishes the season with a 39-12 record.
The Spartans have sent at least two wrestlers to state every year since 2002 and have seen at least three wrestlers place every year since 2012.  The 19 qualifiers over the past three years are an unprecedented run in the history of Sparta wrestling and with four qualifiers returning and a talented group of eighth graders coming next year, it looks like this run has a good chance of continuing.
For this to continue, we need to continue to support the Sparta Wrestling program at all levels.  The tough tournaments Sparta competes in throughout the year prepare the Spartans for the tournament season.  No offense to some of the smaller tournaments around Sparta, but the lesser-competition at those tournaments don't benefit the Spartans as much as the top-caliber competition the Spartans will see at tournaments like the Ellsworth Invitational and the Cheesehead.  The national tournaments the middle school wrestlers participate in prepare those wrestlers for what it will be like wrestling at the high school on a weekly basis.  The open mats that allow wrestlers of all ages in Sparta and the surrounding area to wrestle year-round keep those wrestlers fresh, sharp and prepared for competition when the season begins in November.  Champions in February and for this year, March, are not molded during the season.  They are molded in the 11-months before and after the tournament when weaknesses are addressed and strengths solidified.  This has never been more apparent than the last five years where Sparta has seen 26 state qualifiers.  As the youth, middle school and high school levels have started to work together more than ever, the results have played out at the Kohl Center and beyond.  So while the fruits of this hard work are played out at the high school level, we need to pause and give thanks to those at the youth and middle school who lay the foundation for this success.  And also, big thanks and congrats to coach Jake Larsen for preparing these wrestlers and getting them to the tournament season healthy and ready to go.
Records and MVC Notes
After the completion of this year's state tournament, a number of Spartan records are poised to fall.  With a three year record of 124-37, John Roddick is within striking distance of Matt Tourdot's 165 career wins.  Roddick could also become the first Spartan wrestler to win 40 or more matches in every season while both him and Polhamus could become the first four-time state qualifiers in Sparta history.  Roddick also has the opportunity to join Troy Lietzau and Kody Seekamp as Sparta's only three-time MVC champions.
Here is some more data to ponder over.  Sparta's MVC championship this year is even more impressive when you examine enrollment numbers throughout the conference.  La Crosse Aquinas is the smallest school in the conference with just 338 students, but Sparta's 704 is 162 less than the next smallest school, which is Onalaska with 866.  Tomah has 979 students, Logan 869, Tomah 979, Holmen 1083 and Central 1111.  And this gap between Sparta and the other schools is nothing new.  That makes Sparta's MVC title and 9th straight season finishing first or second that much more impressive.  Sparta coaches and wrestlers are making the most with an enrollment that is hundreds less than the other conference foes with the exception of Aquinas.
After 25 years of MVC wrestling, here are the conference dual records over that time…
Holmen 114-28
Sparta 107-35
Tomah 95-47
Central 55-86-1
Logan 54-88
Aquinas 45-55
Onalaska 7-134-1
With Coach Larsen's 13-4 record this year, he is one victory away from tying Lyle Blum's record for most wins by a Spartan coach.  Blum had a 85-47 record over eight seasons as coach while Larsen has a 84-20 record in six seasons.  His three MVC titles ties Mike Montgomery for the most of any coach.  Congrats Coach Larsen on another great season!!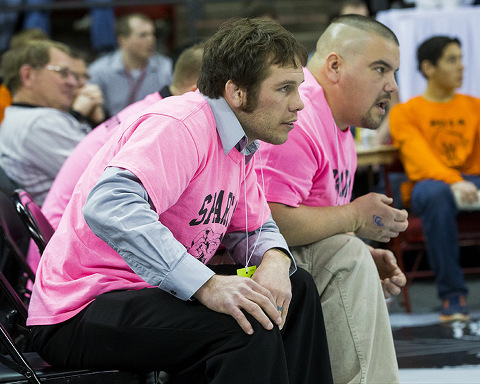 Best coaching job yet?
While the Spartans certainly did not lack top-end talent this year–the state tournament is evidence of that–one could certainly make the argument that Sparta was lean for depth in areas of the team.  Specifically, Sparta was routinely without wrestlers at 195 and 285.  The lack of depth at those weight classes may have cost the Spartans at regionals, at the Lancaster Invite, their dual against Baraboo at Stevens Point, at the Sparta Invite and Badger State.  There were questions of whether or not the Spartans would be able to compete with the likes of Tomah and Holmen while lacking wrestlers at weights where the Timberwolves and Vikings were strong.
Former head coach Mike Montgomery had this to say just before the tournament season started about the job Larsen has done with this year's team.
Coach Larsen has done a great job of putting and keeping a varsity lineup together this season despite the challenges of not having the upper weights to round out his line-up. The ability to win close matches this season has been the result of winning the toss-up matches and having our wrestlers prepared to compete when the pressure was on. The Holmen match is probably a great example of winning when the odds were against us. Coach Larsen has stuck with a plan and not deviated from it as far as conditioning and training for the season. The goal is always to be at your best and freshest at the end of the season and hopefully that is where the Spartans are at. With only three seniors on the team it could be considered a rebuilding year but those seniors have provided good leadership and the rapid improvement of a talented freshman group has been a pleasant surprise.

With all the talent in the freshman and sophomore classes it becomes equally important to maintain their level of improvement and development throughout the season. Coach Larsen brought in Coach Zurfluh to help with this transition and it has paid great dividends.  Coach Zurfluh has provided a nurturing, positive, and encouraging presence to the young wrestlers as they await their opportunity in the upcoming years. The sign of a strong and lasting program are high levels of participation and competition among the wrestlers for varsity positions. A state championship team needs to be 2 or 3 deep at every weight class. It is a very long and demanding season and anything can happen along the way. When you have quality wrestlers to fall back on, minor injuries, illnesses or other setbacks won't impact the overall strength of the team as much. 
.
So while Sparta regularly forfeited two matches in each tournament and dual, they still finished with a 13-4 record and was no worse than 5th at all tournaments not named Cheesehead.  Sparta was successful because those who could step on the mat wrestled to their full potential.  Take Stevens Point for example.  Sparta won against Stevens Point 37-36 and against DC Everest in the championship 31-26.  In each of those duals, Sparta forfeited three times yet still won.  That's because each of the guys who took the mat did their job, won the matches they should have won, closed out close matches and picked up bonus points.  Little by little all those efforts made a big difference.
We could pat ourselves on the back all day for what we accomplished this year, but there is always room for improvement.  Sparta will look to earn their first regional title and trip to team sectionals since the 2011-12 season next year.  Sparta has fallen short at regionals the last two years by a combined 13 points.  There are tournament titles to be had and improvements could definitely be made at the very-tough Cheesehead, but these things will come if we continue the hard work and sacrifices of the wrestlers, coaches, alumni and parents.  On the most basic level, wrestling is an individual sport, but that individual can go so much farther with the support of their parents, fellow wrestlers, coaches, school and club.
So let's take time to enjoy the success of the 2013-14 team.  It was a great year to be a Spartan.  At the same time, let's not settle for what we've accomplished.  As the last three years have shown, there is always room for improvement, for records to be broken and room for the program to reach new heights.