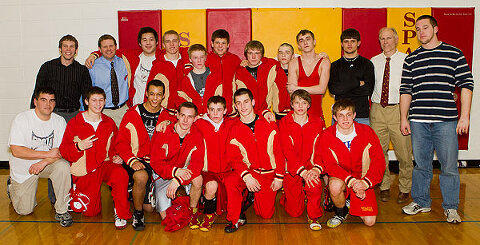 Sparta made it back-to-back MVC titles with a 37-22 drubbing of Tomah Thursday evening in Sparta.  The Spartans won eight matches including four by pin en route to the 15-point victory.  It was the first time since the 1992-93 and 1993-94 seasons that the Spartans won back-to-back MVC titles and first time ever that they won back-to-back outright titles.
It could have been worse for the Timberwolves.  Sparta lost two overtime matches they very easily could have won.  The first match of the night pitted Michael Murnane against Tomah's Joey Organ.  Murnane appeared to have the match in hand up 4-3 with five seconds to go.  All he had to do was ride Organ out and the match was over, but Organ rolled out of Murnane's grasp and the match went into overtime where Organ prevailed.  It was a tough loss, but Murnane hung tough with won of the MVC's better wrestlers.
The loss didn't seem to faze the Spartans as they rattled off two consecutive victories to take a 6-3 lead before Tomah's one-two punch of Mike and Tyler Von Haden gave Tomah their largest lead of the night.  Tyler Von Haden picked up Tomah's only pin of the night after catching Xavier Lopez midway through the second period and pinning him in 3:21.  At 171, Ben Schaitel and Mike Von Haden wrestled through numerous blood and injury timeouts.  In the end, Schaitel was able to stay off his back and avoid the tech fall as Mike Von Haden won 19-6.  At that point, the score was 13-6 in favor of Tomah, but the Timberwolves lead would shortly evaporate.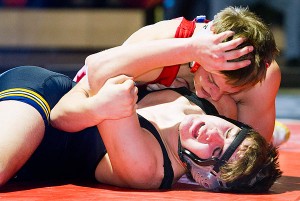 In what might have been the biggest victory of the night, Kyle Burkhalter pinned Tomah's Jordan Reisinger at the 3:21 mark in the second period.  From the moment the whistle sounded in Burkhalter's match, he was the aggressor and really looked like he wanted it more.  Halfway through the second period, he turned the momentum in Sparta's favor and they never looked back.  Trailing 12-13, Tom Tourdot pinned Dakota Stevies early in the second period and the Spartans would never trail again.
At 285, Chris Beeler found a way to beat Tomah's Lucas Stromberg-Windau 4-2 despite a flurry of stalling calls for each wrestler in the match.  The slow, deliberate pace of the heavyweights was followed by a frenetic match at 103 where Tomah's Patrick Adler defeated Dylan Winchel 14-9.  Winchel gained four of his points from caution calls on Adler.  It wouldn't matter in the end, but those caution calls turned what would have been a 14-5 final into a 14-9 final.  That saved the Spartans a team point.  Speaking of caution calls, it seemed they were dropping left and right and in almost every match.  All in all, 17 cautions were issued on the night.
Following Winchel and Adler's match, Tristan Zurfluh wrestled a must-win match for the Spartans against Tomah's Josh Brown.  From the start, Zurfluh enforced his will on Brown and stuck him with four seconds left in the second period to give the Spartans a 27-16 lead.  Following Zurfluh's pin was the second overtime match of the night.  Bryce Nowaczyk faced off against Tomah's Clayton Jacob and Nowaczyk held the lead until about 10 seconds to go before surrendering a takedown to tie the match and send it into overtime.  Shortly into the overtime period, Jacob picked up the takedown to secure the victory for Tomah.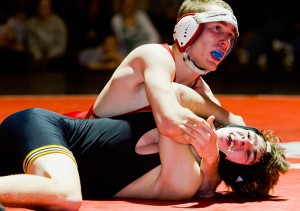 At 125, Derek VonRuden manhandled Tanner Dworak 9-1 before Nick Winchel pinned Skylar McCarthy in the third period.  With VonRuden's victory, the Spartans ensured at least a tie in the dual, but Winchel's victory was the clincher for Sparta's 2010-11 MVC championship.  Rounding out the night was Tomah's Damion Reekie defeating Paul Vantassel 11-4, but by that time the Spartans knew they had the MVC in hand.
Earlier in the week I did a couple of mock dual scores and in the first one I had Tomah winning 30-26 and in the second one I had Sparta winning 33-27.  I thought it was going to come down to one or two matches.  Burkhalter's pin was huge, Mosley's win was also big as was Beeler's victory at 285 along with Zurfluh picking up the pin at 112.  Even in losses, guys like Ben Schaitel and Dylan Winchel were successful in staying off their backs and saving team points.
Here are the scores from tonight's dual…
140  —  Joey Organ (Tomah) decisioned Michael Murnane 6-4 OT
145  —  Toby Mosley decisioned Jacob Dubord (Tomah) 8-3
152  —  Morgan Leis decisioned Conner Genrich (Tomah) 8-3
160  —  Tyler Von Haden (Tomah) pinned Xavier Lopez 3:25
171  —  Mike Von Haden (Tomah) major decisioned Ben Schaitel 19-6
189  —  Kyle Burkhalter pinned Jordan Reisinger (Tomah) 3:21
215  —  Tom Tourdot pinned Dakota Stevies (Tomah) 2:23
285  — Chris Beeler decisioned Lucas Stromberg-Windau (Tomah) 4-2
103  —  Patrick Adler (Tomah) decisioned Dylan Winchel 14-9
112  —  Tristan Zurfluh pined Josh Brown (Tomah) 3:56
119  —  Clayton Jacob (Tomah) decisioned Bryce Nowaczyk 7-5 OT
125  —  Derek VonRuden major decisioned Tanner Dworak (Tomah) 9-1
130  —  Nick Winchel pinned Skylar McCarthy (Tomah) 5:10
135  —  Damion Reekie (Tomah) decisioned Paul Vantassel 11-4
FINAL:  Sparta 37 – Tomah 22
With the win, the Spartans finish the year 6-0 in the MVC and improve to 14-2 overall.  They now will have Friday to recoup before heading to Adams-Friendship for the D2 Regionals.  The team champion from Saturday's tournament will wrestle Tuesday evening in Mauston.  Spartanwrestling.com will have updates throughout Saturday on how the Spartans are doing on the individual and team fronts.
We will have photos posted by the end of Friday and hopefully a video of the dual will also be posted by the end of the weekend.  A big thanks goes out to Mike Montgomery for hosting and running the live blog.  I know Larry Mosley who is currently in Afghanistan was able to log on as were a number of other fans from around the country.
Congrats to the Spartans on a second straight MVC championship!!!  Thanks to all the Tomah fans who made the trip over to Sparta to fill the gym and make this dual standing-room only.  It really is a testament to the strength of this rivalry that after all these years the people of Sparta and Tomah still pack their respective gyms to watch one of the better wrestling rivalries in the state.  Wrestling fans around the state should be so lucky to have half the energy that goes into the Sparta Tomah dual each year.