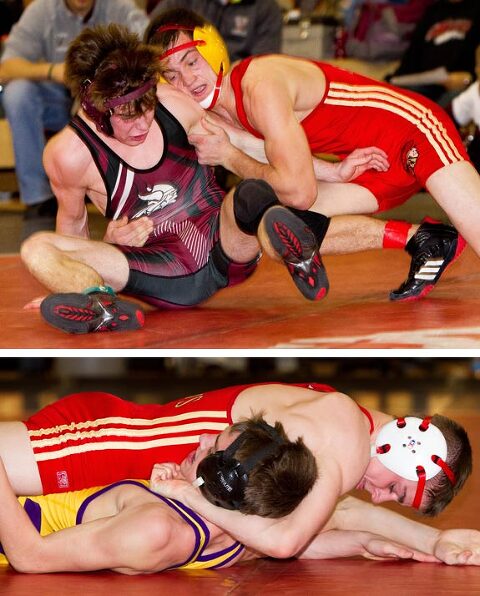 Sparta won their own invite for the first time since 1997 by putting six guys into the finals to finish 6.5 points ahead of Iowa-Grant and 84.5 points ahead of MVC rivals Holmen. Neillsville finished third with 193 points, Desoto fourth with 135 and Holmen fifth with 127.
Leading the way for the Spartans were individual champions Dylan Winchel and Derek VonRuden. Winchel cruised through the 106-pound weight class with three pins in three matches while Derek VonRuden shutout his opponent in the finals and beat Ryan Stalsberg of Holmen for the second time in three days.
Also making the finals for Sparta was Paul Vantassel, Toby Mosley, Bob Ragan and Kyle Burkhalter. It was a very solid effort by the Spartans who finished ahead of an Iowa-Grant team that finished 42 points ahead of the Spartans at the Badger State Invite back on December 23rd.  Below are summarized results for how the Spartans did on the day…
106  —  Dylan Winchel, 1st Place, 4-0 with three pins
113  —  John Roddick, 5th Place, 3-1 with two pins
120  —  Brock Polhamus, 4th Place, 2-2
126  —  Tristan Zurfluh, 4th Place, 2-2
132  —  Derek VonRuden, 1st Place, 4-0 with a pin
138  —  Paul Vantassel, 2nd Place, 3-1 with a pin
145  —  Michael Murnane, 5th Place, 4-1 with a pin and technical fall
152  —  Toby Mosley, 2nd Place, 3-1
160  —  Bob Ragan, 2nd Place, 3-1
170  —  Greg Skon, 6th Place, 2-2 with a pin and major decision
182  —  Kyle Burkhalter, 2nd Place, 3-1 with a pin
195  —  Dan Dawley, 5th Place, 0-4
220  —  Logan Degenhardt, Did Not Place, 0-2
285  —  Michael Beeler, 5th Place, 4-1 with a pin
TEAM SCORES: Sparta 211.5, Iowa-Grant 205, Neillsville 193, Desoto 135, Holmen 127, Weston/Ithaca 94, Westfield-Pioneer 88, New Lisbon 79.5, Waukon 74.5, Wautoma/Wild Rose 70, Blair-Taylor 57, Reedsburg 46, North Crawford/Seneca 10.5,
The team title in Sparta was the team's fourth tournament championship this season. They also won the Reedsburg Dual Invite, Lancaster Invite and Stevens Point Dual Scramble.
The Spartans will wrap up their home schedule with a dual against La Crosse Central on Thursday before heading to the tough Kasson-Mantorville/Swalla Duals Saturday in Kasson, Minn. After they they will travel to Tomah for their final MVC dual of the season on Thursday, Feb. 2nd. Also this weekend, the JV will wrestle their final tournament of the season in Sauk Prairie.
Finally, we are planning on having a live streaming of the La Crosse Central home dual this Thursday. I think Saturday's effort during the Spartan Invite was a great first-effort and we plan on improving things and doing this for most home duals going forward. It will be the only wrestling happening in my home city of Duluth, Minnesota that doesn't take place on the television on Monday night.
We'll have some previews up later this week for Central and the Kasson-Mantorville duals. Congrats Sparta on a great effort to bring home the first Spartan Invite team championship since 1997!!!