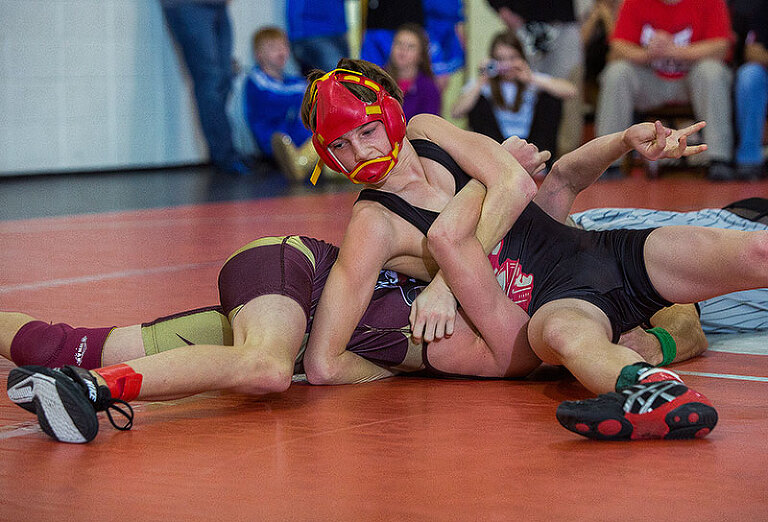 The Spartans continued their winning ways against La Crosse Logan with a 43-21 victory Thursday evening in Sparta.  Logan, expected to be one of the stronger teams in the conference, lost three of four matches to the Spartans decided by four points or less.  Winning those close matches would have made the dual much tighter than it was.  In the end, the Spartans won 10 of 14 matches while picking up bonus points in five of them.
The match started off with Walker Polhamus earning an 8-1 decision over Logan's Nathan Balkers.  An overtime victory at 182 by Lucas Peters gave the Spartans a 6-0 lead before the Rangers picked up a pin to tie things up.  Logan would see their only lead of the night at 18-16 after a pin at 120.  After that, the Spartans' strong lower weights ripped off five wins in the next six matches to seal the dual.
Junior John Roddick made quick work of Logan's Jaren Poff picking up a pin in 26 seconds.  Freshman Jadon Winchel had a strong third period to earn a 13-9 victory over Dylan Smith.  After that it was pin city for the Spartans with Brock Polhamus, Dylan Winchel and Logan Vantassel all picking up pins for the Spartans.
Full results are below…
170  –  Walker Polhamus defeated Nathan Bakalars (Logan) 8-1
182  –  Lucas Peters defeated Collin Mastin (Logan) 3-1 in overtime
195  –  Isaiah Graewin (Logan) pinned Ben Stidham in 1:46
220  –  Logan Degenhardt defeated Calvin Wright (Logan) 3-1 in overtime
285  –  Duncan Metz-Beard (Logan) won by forfeit
106  –  Corey Zimmerman defeated Cody Larson (Logan) 6-0
113  –  Christian Lamon defeated Brandon Henke (Logan) 14-1
120  –  Nick Houlihan (Logan) pinned Zak Marcellus in 3:14
126  –  John Roddick pinned Jaren Poff (Logan) in 26 seconds
132  –  Jadon Winchel defeated Dylan Smith (Logan) 13-9
138  –  Brock Polhamus pinned Tristan Groleau (Logan) in 4:39
145  –  Dylan Winchel pinned Garrett Graff (Logan) in 3:19
152  –  Adam Bergeron (Logan) defeated Hayden Bernett 7-4
160  –  Logan VanTassel pinned Nick Shafer (Logan) in 1:46
SPARTA 43  –  LA CROSSE LOGAN 21
The Spartans take a day off before heading to Wisconsin Dells for the Wisconsin Dells duals.  They will meet some very tough competition there in Wausau West, Mineral Point and Spring Valley/Elmwood.  We will have a more in-depth preview of that tournament tomorrow.
With tonight's victory, the Spartans improve to 2-0 overall and 1-0 in the MVC.  The Spartans next MVC dual won't be until Thursday, January 9th against Onalaska.  That will also be the next home dual for the Spartans.