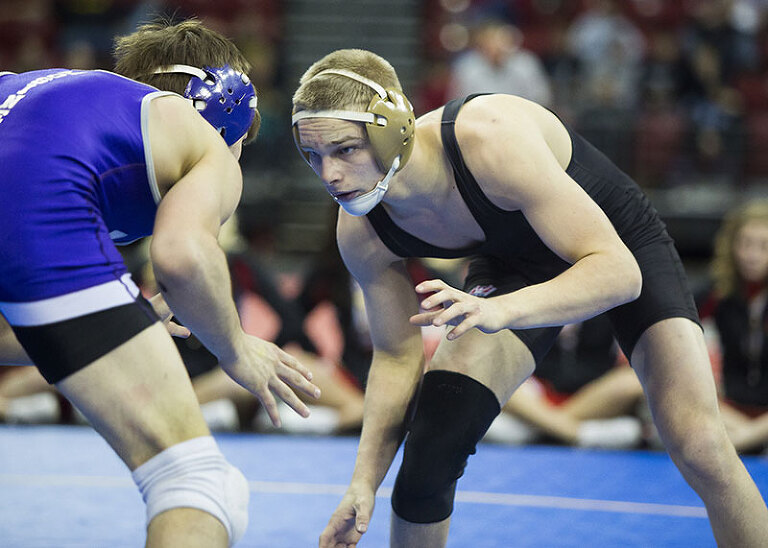 In what was expected to be a dual that came down to bonus points, the Spartans continued a stellar January by winning close matches, picking up bonus points and stunning a Holmen crowd with a 40-19 victory over the 5th-ranked Vikings in Holmen Thursday evening.
Sparta won 10 matches, including the last seven, while Holmen  managed just four victories all night–two of which were forfeits by the Spartans.  Continuing a trend that has continued all season long, the Spartans won a number of close matches.  Logan VanTassel set the tone in the first match of the night with a 6-4 victory at 160.  You could sense things were starting to fall the Spartans way with victories by Walker Polhamus at 170 and an overtime victory by Logan Degenhardt at 220.  Those were weights Holmen was expecting and needed to win if they wanted to escape with a victory.
On paper, the Vikings should have won at least five of six matches from 160 through heavyweight, but  Sparta and Holmen each won three and Lucas Peters stayed off his back in his 8-0 loss to Duncan McKinney preserving what could have been two huge bonus points at 182.
Including forfeits, Holmen won four of the first seven matches and jumped out to a 19-9 lead, but that is where the Vikings' scoring would end.  Sparta ripped off seven straight victories with the most impressive coming at 138 when Brock Polhamus controlled the highly ranked Ryan Stalsberg (6th in D1 at 138) from start to finish en route to a 5-1 victory that ensured the Spartans would at least tie the Vikings.  The clincher came one match later when the Vikings unexpectedly forfeited to Dylan Winchel to put the Spartans up 37-19 with one match to go.  And in fitting fashion, the Spartans won another close match to close out the dual as Haydn Bernett won 4-2 over Tyson Noffke.
Holmen was without Noah Risch and Ryan Bennett, two of their better wrestlers, but Sparta forfeited one of those weights where those guys would have slotted into anyway so the extra scoring by the Vikings would have been negligible.   This was a match won by the Spartans and earned by the Spartans.  It was even more impressive when you consider the Spartans gave up 12 points by forfeits and then proceeded to win nine of the 11 matches that were actually wrestled.  Impressive, impressive victory by the Spartans.
Let's look at how everyone did on an individual basis tonight.
160  –  Logan VanTassel defeats Logan Lasack (Holmen) 6-4
170  –  Walker Polhamus defeats Zack Brack (Holmen) 5-1
182  –  Duncan McKinney (Holmen) defeats Lucas Peters 8-0
195  –  Jacob Wiemerslage (Holmen) wins by forfeit
220  –  Logan Degenhardt defeats Charles Serauskas (Holmen) 13-11 in OT
285  –  Hunter Hauser (Holmen) wins by forfeit
106  –  Drake Kulmaczewski (Holmen) defeats Corey Zimmerman 4-1
113  –  Christian Lamon pins Kelsie Jarzemski (Holmen) in 1:51
120  –  Zak Marcellus defeats Corey Andrews (Holmen) 13-0
126  –  John Roddick pins Taylor Goins (Holmen) in 3:02
132  –  Jaden Winchel defeats Jonah Reiber (Holmen) 8-3
138  –  Brock Polhamus defeats Ryan Stalsberg (Holmen) 5-1
145  –  Dylan Winchel wins by forfeit
152  –  Haydn Bernett defeats Tyson Noffke (Holmen) 4-2
FINAL:  SPARTA 40 – HOLMEN 19
The victory pushes Sparta's dual record to 11-4 overall and 4-0 in the MVC.  The Spartans have Tomah and Central left on the MVC calendar.  Holmen already defeated Tomah 45-24, which would suggest the Spartans should be favored against the Timberwolves.  If Sparta wrestles like they did tonight, they will be in excellent position to capture their first MVC title since the 2010-11 season and seventh overall.
Great victory by the Spartans tonight.  Congrats guys and GO SPARTANS!!