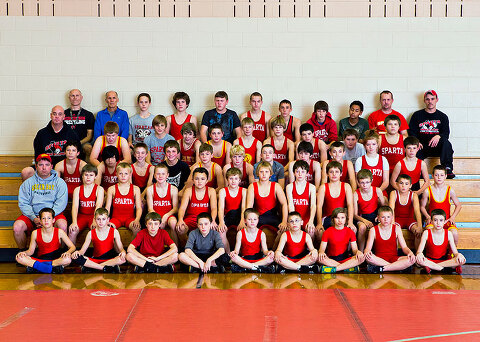 The 2012 Middle School season is in the books and it was a great season for all involved. The season began with over 60 6th through 8th graders and finished with 58. The Wrestlers were pretty much evenly divided over the three grades with a lot of experienced wrestlers mixed in with the newcomers. Thanks to a strong youth program led by Coach Brian Brooks and some great assistants, the middle school is beginning to see an influx of quality and experienced wrestlers competing at a high level. Evident of this were the team championships won at Neillsville and Viroqua this year. A team of 15 wrestlers went to Neillsville and competed in a dual tournament defeating strong teams from Wisconsin Rapids, DC Everest and Cadott. At the Viroqua Invitational 40 wrestlers help bring home a team championship winning several individual championships. Throughout the season the team competed in mini-conference tournaments with 2-3 other conference teams. The Spartans consistently dominated in those events.
It is important not to forget the newcomers and first year wrestlers as well. Their participation and effort throughout the season is important to the future success of our program. It is never too late to start wrestling. The one fact about wrestling success is that you get out of it what you put into it. If you are willing to work hard you will be successful no matter when you start. The future success of our high school team depends on having large participation numbers and dedicated, hard working wrestlers.
The quality and numbers in this year's group of 6th-8th graders is as great as any group I have ever seen. The potential to be in the State Team
Championships in the near future is a strong possibility. The combination of high numbers, talented individuals, tough hard working kids, motivated newcomers and supportive parents will make the future very bright. The trick is to keep improving and not be satisfied with just being good enough. Challenge yourself to be great and to make your team great.
Special thanks to Coach Zurfluh and all the work he did this season as in season's past. Assistant Heath Hauser and newcomers Brian Winchel, Mike Todyrk and Bill Lamon provided great insights and motivation for our young wrestlers.
Most of these young wrestlers will continue to compete with the Sparta Rec program when it begins in early January. Stop by and get a glimpse of the future at the Sparta Youth Tournament on Sunday, January 20 at the high school.