Spartan alum and current Kenosha Tremper head coach Joel Dutton put three of his wrestlers on the podium at this year's state tournament.  At 103 pounds, Tyler Rice placed 2nd while at 119 pounds, Dominic Garcia also came home with a 2nd place showing.  At 285 pounds, Najee Parker finished 6th.  On a team level, Tremper finished with a 32-5 dual record and barely missed qualifying for team sectionals after finishing just 7.5 points back of champion Milton.  Milton fell in the state team finals to Wisconsin Rapids and was ranked 2nd for most of the year in division one according to Wisconsin Wrestling Online.  I think that just illustrates how underrated this Tremper team was all season long.
Here are some photos of Dutton getting animated during the semifinals on Friday evening.  Great match, but I don't think the kid with the Nintendo DS over Dutton's shoulder caught one second of it.  The kid in the red jacket is another story…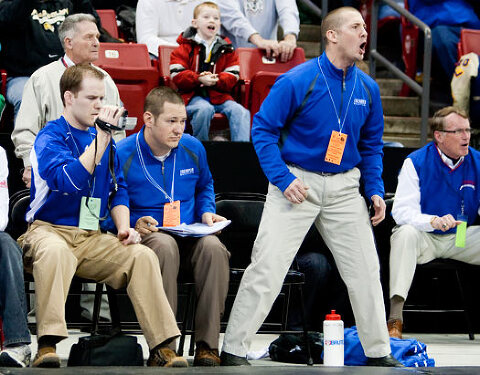 We will have more photos and video this week.  I'm finally done taking my breather from a very busy couple weeks leading up to the state tournament so keep checking back here for more updates and information about the end-of-the-year banquet.