Seven Spartans traveled to the Kohl Center for the state wrestling tournament and more than half returned as placewinners.  Dylan Winchel and Kyle Burkhalter both placed second, John Roddick came in third and Tristan Zurfluh placed 4th to lead the Spartans to a 10th place finish among 232 teams at the Kohl Center.
Michael Murnane and Daniel Dawley dropped decisions in their first match and were out of the tournament on Thursday.  Murnane could not recover from getting put on his back early and dropped an 11-7 decision while Dawley picked up a quick takedown in the first period, but then had trouble handling the long and lanky Dan Dorner from Luxemburg-Casco.  Murnane finished his senior season with a 33-15 record while Dawley finished his final season with a 32-10 record.
At 132 pounds, Brock Polhamus had a tough weekend. The sectional champion dropped a 10-2 decision in his first match against Wrightstown's Alex Maes.  In his wrestleback, Polhamus was wrestling Mosinee's Dalton Gormon tough in the first period before Gormon picked up a takedown and two quick back points at the end of the period to put Polhamus in a 4-0 hole that he couldn't recover from.  Polhamus dropped that match 7-1 and finished the season with a 33-12 record.
Dylan Winchel and Kyle Burkhalter each advanced to the finals with convincing quarterfinal and semifinal victories.  Winchel won his first match 9-1 and then picked up a pin in his second match in 5:19.  Those were wins over two wrestlers with a combined record of 80-13 on the year.  A familiar face was waiting for Winchel in the finals in Viroqua's JJ McClelland.  In six previous meetings, the two were 3-3 against each other.  This would also be the third weekend final in a row the two met after meeting in the regional and sectional finals the two previous weeks.
Dylan picked up an early takedown and then was reversed and put on his back and had to struggle to escape the pin.  It appeared to have left him winded for the rest of the match.  McClelland would go on to win 12-6.  Dylan finished his season with a 27-5 record.
At 182 pounds, Kyle Burkhalter won his quarterfinal match 7-2 and then gave Saint Croix Falls' Joe Rademacher his only loss of the season in a convincing 11-5 victory.  In both matches, Burkhalter was strong on his feet, earned back points and wrestled mistake-free.  The two wrestlers he defeated on the way to the finals finished the year with a combined record of 87-5, which shows you the caliber of wrestlers Burkhalter faced.  In the finals, it was yet another familiar face awaiting a Spartan.  Waupun's Brady Huenink defeated Burkhalter at the state tournament last year.  This year, Huenink would pick up his second win over Burkhalter with a 7-1 victory in the finals.  The Waupun senior was strong on top and Burkhalter wasn't able to pick up the takedowns like he did in his first two matches.  Kyle finishes an impressive senior season with a 40-7 record.
At 120, John Roddick had an interesting path to his 3rd place finish.  His first two matches were close ones.  Victories of 5-2 and 5-1 over guys with records of 41-8 and 41-12 led Roddick into a semifinal against Ellsworth's Jens Lantz.  The two met at the Cheesehead earlier this year with Lantz picking up a 17-0 victory.  In the semifinals, Lantz used a pin to get past Roddick.  John wasn't down long as he won his third close match of the tournament over Saint Croix Falls' James Klassen by a 5-2 score and then won by injury default in the 3rd place match over Marshall's Josh Murray.  Roddick was called for a slam against Murray while taking the Marshall senior to the mat with a single leg.  The move was not malicious and it appeared that Murray did not get his arms out to brace his fall and was injured when he hit the mat.  After a number of minutes on the mat, Murray decided to restart the match and then immediately default, which gave the win to Roddick.  Murray could have opted to take advantage of the slam, win by injury default and take third, but since the move was not malicious, I'm guessing the coaches and Murray decided that they did not want to win in that fashion.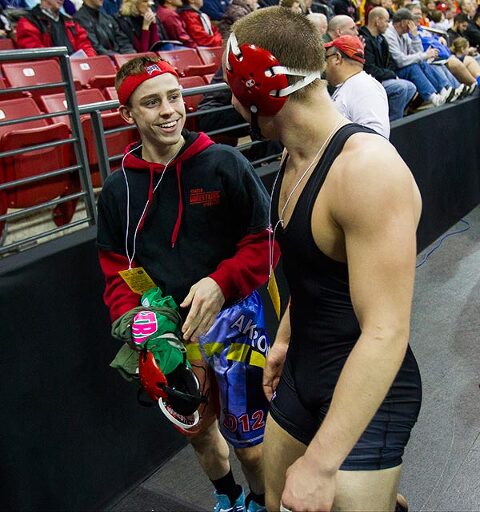 If you thought Roddick won a lot of close matches, let's talk about Tristan Zurfluh's weekend.  Zurf won his opening round match 5-3 then won 2-1 in the quarterfinals against Somerset's Bobby LeRoy.  In his first match, Tristan picked up two points late to win while the quarterfinal was won in the final minute.  In the semifinals, Zurfluh dropped a 5-2 decision to Valders' Stetson McCulley.  Like Roddick, Zurfluh came ready to wrestle on the third day of the state tournament.  He picked up a 4-2 overtime victory against Lomira's Casey Seltrecht (44-5) before dropping a 6-2 decision in the third place match to Mauston's Colin Dolata.  If you are following, all of Zurfluh's matches in the state tournament were decided by four points or less.  Tristan finishes his senior season with a 26-10 record.
The seven Spartans at the state tournament is a program record.  Sparta set the previous record last year with six.  The four placewinners at this year's tournament is also a record.  Only three times in the history of Sparta wrestling have three wrestlers placed at state.  In 1989, there was Joel Dutton (3rd), Chris Buckley (2nd) and Terry Smith (2nd).  Two years later in 1991 there was Justin Schroeder (1st), Jeff Erickson (6th) and Rob Kimpel (2nd).  Then there was last year when Dylan Winchel (5th), Derek VonRuden (5th) and Toby Mosley (5th) placed for the Spartans.
So to be the first Spartan team to send seven wrestlers to the state tournament and to bring back the most medalists in 54 years of Sparta wrestling is impressive.  Congrats to the wrestlers and coaches for your hard work and accomplishments this year.  And thank you to all the seniors on this year's team for putting in years of hard work and helping to advance the program to where it is today.
Finally, there is Sparta's team score total of 63 points, which was good for fourth in division two.  Leading all teams was division three's Lancaster with 99 points.  Division two was led by Luxemburg-Casco with 85 points and division one was led by Wausau West with 98 points.  Here is a breakdown of the top ten teams across all divisions…
Lancaster 99.0

Wausau West 98.0
Bay Port 92.0
Coleman 91.5
Luxemburg-Casco 88.5
Merrill 88.0
Edgar 85.5
Ellsworth 67.5
Sparta 63.0
Weston/Ithaca 63.0
Not bad guys.
Full results for each of the Spartans' matches at the Kohl Center are below…
D2-113 – Dylan Winchel (27-5) placed 2nd and scored 19.00 team points.
Quarterfinal – Dylan Winchel (Sparta) 27-5 won by major decision over Ben Vosters (Wittenberg-Birn.) 46-7 (Maj 9-1)
Semifinal – Dylan Winchel (Sparta) 27-5 won by pin over Gunnar Leisner (Oconto Falls) 34-6 (Pin 5:19)
1st Place Match – JJ McClelland (Viroqua) 48-2 won by decision over Dylan Winchel (Sparta) 27-5 (Dec 12-6)
D2-120 – John Roddick (42-12) placed 3rd and scored 16.00 team points.
Champ. Round 1 – John Roddick (Sparta) 42-12 won by decision over Hunter Pawelski (Southern Door) 41-8 (Dec 5-2)
Quarterfinal – John Roddick (Sparta) 42-12 won by decision over Patrick Breckheimer (Chilton/Hilbert) 41-12 (Dec 5-1)
Semifinal – Jens Lantz (Ellsworth) 42-5 won by pin over John Roddick (Sparta) 42-12 (Pin 3:05)
Cons. Semi – John Roddick (Sparta) 42-12 won by decision over James Klassen (Saint Croix Falls) 30-8 (Dec 5-2)
3rd Place Match – John Roddick (Sparta) 42-12 won by injury default over Josh Murray (Marshall) 35-9 (I-D 3:10)
D2-132 – Brock Polhamus (33-12) place is unknown and scored 0.00 team points.
Quarterfinal – Alex Maes (Wrightstown) 38-10 won by major decision over Brock Polhamus (Sparta) 33-12 (Maj 10-2)
Cons. Round 1 – Dalton Gorman (Mosinee) 46-7 won by decision over Brock Polhamus (Sparta) 33-12 (Dec 7-1)
D2-138 – Tristan Zurfluh (26-10) placed 4th and scored 12.00 team points.
Champ. Round 1 – Tristan Zurfluh (Sparta) 26-10 won by decision over Jake Schmidt (Wrightstown) 28-18 (Dec 5-3)
Quarterfinal – Tristan Zurfluh (Sparta) 26-10 won by decision over Bobby LeRoy (Somerset) 38-7 (Dec 2-1)
Semifinal – Stetson McCulley (Valders) 44-3 won by decision over Tristan Zurfluh (Sparta) 26-10 (Dec 5-2)
Cons. Semi – Tristan Zurfluh (Sparta) 26-10 won in sudden victory – 1 over Casey Seltrecht (Lomira) 44-5 (SV-1 4-2)
3rd Place Match – Colin Dolata (Mauston) 43-6 won by decision over Tristan Zurfluh (Sparta) 26-10 (Dec 6-2)
D2-145 – Michael Murnane (33-15) place is unknown and scored 0.00 team points.
Champ. Round 1 – Jay Wallace (Kiel) 38-9 won by decision over Michael Murnane (Sparta) 33-15 (Dec 11-7)
D2-182 – Kyle Burkhalter (40-7) placed 2nd and scored 16.00 team points.
Quarterfinal – Kyle Burkhalter (Sparta) 40-7 won by decision over Lucas Stephenson (Sturgeon Bay) 42-4 (Dec 7-2)
Semifinal – Kyle Burkhalter (Sparta) 40-7 won by decision over Joe Rademacher (Saint Croix Falls) 45-1 (Dec 11-5)
1st Place Match – Brady Huenink (Waupun) 39-1 won by decision over Kyle Burkhalter (Sparta) 40-7 (Dec 7-1)
D2-195 – Daniel Dawley (32-10) place is unknown and scored 0.00 team points.
Champ. Round 1 – Dan Dorner (Luxemburg-Casco) 37-16 won by major decision over Daniel Dawley (Sparta) 32-10 (Maj 10-2)