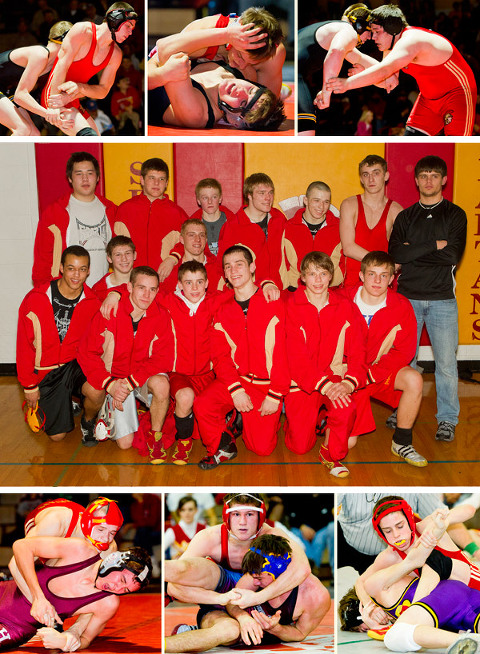 As we close out the year, let's take a minute to look back on everything the Spartans accomplished in 2011. It was surely a year to remember.
The Spartans won their second MVC championship in a row. Key conference victories included a 38-31 victory over Holmen and a 41-20 victory over rival Tomah. The back-to-back championships were Sparta's first since the 1992-93 and 1993-94 seasons. However, this was the first in which the Spartans were outright champions both years. Sparta shared the MVC championship with Holmen in 1993-94.
On the year, the Spartans were 16-3 in duals. Two of those losses came at Stevens Point when the team was battling sickness and injury. The third loss came at team sectionals when, despite winning eight matches to Lodi's six, the Spartans fell 28-34 for the second year in a row to the Blue Devils.
Sparta won four tournament championships. Those include the Lancaster Invitational, Rochester, the WIAA regionals and the Reedsburg dual tournament earlier this year.  The Spartans also finished 3rd at the highly competitive Harrisonville Christmas Tournament.
Derek VonRuden and Kyle Burkhalter earned their first trips to the state tournament. Both look tough this year with records of 17-3 for VonRuden and 15-4 for Burkhalter.
Morgan Leis (114) and Tom Tourdot (113) both surpassed 100 victories for their Spartan careers while Toby Mosley did the same earlier this year.  Only 18 wrestlers, Mosley included, have accomplished this feat.
Morgan Leis finished his career with 294 takedowns, which is good for fourth all-time while Nick Winchel finished with 226 for his career despite missing what amounts to an entire season with an injury in 2008.
Takedown machine Nick Winchel finished the 2010-11 season with 102 takedowns, good for 4th all-time in program history.
Tom Tourdot finished the year with 42 victories, which was good for 4th all-time.
Nick Winchel (38), Derek VonRuden (38), Toby Mosley (35), Morgan Leis (33) and Tristan Zurfluh (30) all cracked the 30-win mark for a season.
Head coach Jake Larsen sits on the cusp of his 50th dual victory as a coach for the Spartans. Sparta's 44-25 victory over Weston/Ithaca was Larsen's 49th and gives him a three-year record of 49-6.
Spartans Toby Mosley (145), Morgan Leis (152) and Chris Beeler (285) received were selected as MVC first team members.  Beeler was Sparta's first heavyweight all-conference award-winner since Jarrod Ebert took home the same honors in 1997.
With the back-to-back MVC championships, Sparta has not lost a conference dual since February 3rd, 2009 when the Spartans lost 25-35 to Tomah.  Since then the Spartans are 13-0 in conference matches.
It was a good year for the Spartans, but a lot remains on the table for 2012.  The Spartans will look to win their third straight MVC championship. Key matches in that quest include a January 19th showdown with Holmen and a February 2nd meeting with Tomah.  Sparta will also look to win their regional for the third year in a row and hopefully avenge two close losses to Lodi in the team sectional finals over the last two years. The Spartans have won their regional every year since moving to division two.  Lodi has advanced to the state team tournament for 10 straight years and I know the Spartans will be looking to end that streak this year should they win their regional and advance to team sectional.
Have a great, happy and safe New Year's eve everyone and Go Spartans!